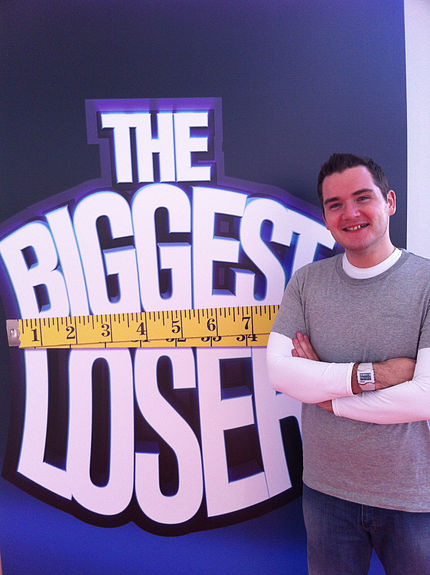 It is hard to believe it's 2012 already, but with a new year means one big thing to me… the new series of The Biggest Loser! The show that completely changed my life – and, indeed led me to becoming an ambassador for CYBEX International – is back on our screens and already I'm gripped.
It's interesting watching it from the other side of the camera this time around, but I also had the honour of going back to visit the new recruits when filming – this will air in the next couple of weeks.
Watching the show has definitely brought back memories about just how much things have changed for me over the past 12 months; There's the weight loss of course, my qualification as a personal trainer, the passing of one of my best friends and former Biggest Loser trainer Angie Dowds and the various media involvement I've been so fortunate to be able to do.
Apart from being glued to The Biggest Loser, I am also extremely busy with my personal training business and I had the pleasure of recently presenting my own fitness series on Ireland AM – the theme of this was showing people how to work out at home. I'm fortunate enough to have my own CYBEX Home Arc Trainer, a piece of equipment that I now use with my clients when they come to the house to train with me. Check out my website www.ptpaddy.com for additional ideas and exercises that you can do from the comfort of your own home.
I have also taken the New Year as an opportunity to review my own exercise regime. I'm currently split between two locations, Sligo and Dublin, and I find myself working out both at home and in the gym. Exercising at home is brilliant as I can use my Arc Trainer to get a cardio, endurance and strength work out all in one – in fact, one of my new clients told me she thought the Arc was just like any other cross trainer, but as soon as she got on it she could instantly tell it was different. I talked her through the benefits of using the Arc, including higher calorie burn and reduced stress on various joints.
For my own workout, I am still using my Arc Trainer for my warm up and cool down but now that I have started to focus on strength training, I am also incorporating the inbuilt Arc Trainer programmes for this, too.
I have started splitting my work outs across three days – lower body, upper body and high-intensity interval training cardio. My aim is to further reduce my body fat percentage and also build up muscle.
On another note, I'm excited to say I have almost finished writing my first book! I'm still working on the title but hopefully it'll be released later on this year.
Looking ahead to the next few months, I'm focusing on building my personal training business, which will hopefully mean creating my own fitness studio at home. I would also love to do some more TV – I have definitely got the bug! Most of the all, I am focused on continuing to help people find the belief that they deserve, they can and they WILL change their lives if they put their minds to it.
Until next time stay healthy & keep believing in yourself.
Paddy