FOOD ALLERGIES
THE HAZARDS OF EATING: IN HOME AND OUT
With over 6 Million children diagnosed with food allergies, chances are good that this already affects your life. For everyone else, it's time we took a serious step to learn the facts in order to keep everyone safe.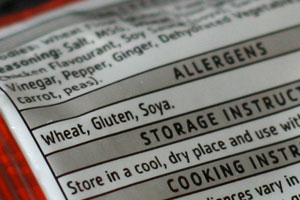 You Need to Know This
The following eight foods are responsible for 90% of all food-allergic reactions in the U.S.:
BE A CAREFUL KISSER
There is evidence that individuals with food allergies are at high risk of having a reaction just from kissing someone who has recently eaten a food allergen. According to research conducted at Mount Sinai Hospital in New York, one should wait at least four hours after consuming a food allergen before kissing someone who is allergic to that food.
Need Assitance?

Seek support:



Need to Know More?

Learning links
_________________________________________________________________________________
HAVE A MINUTE?
Click play to learn more about living with food allergies:
Ryan (9 years old) talks about his peanut allergy:
QUESTION: Do you have food allergies?
What strategies do you use to ensure your safety while at the gym, food bar or in other areas of your life. Share your life saving tips in the comment section below. Thank you!