Top Five Arc Trainer Programs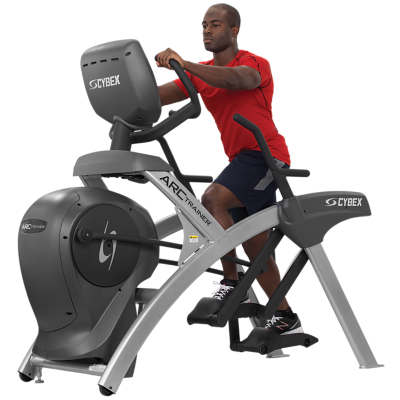 They're here! The five unique training programs you've come to love for the Arc Trainer featuring a range of performance goals - from general fitness to strength and circuit training - designed by Scott Moody!
To quick-start, begin by reviewing the intro videos and articles below.
When you're ready, go ahead and get started by following the trainer tips and links provided for each of the five Arc Trainer programs.
---
Arc Trainer Exercise Series
Getting Started
Those looking to elevate fitness, increase strength and endurance, or even train for a sport may use these five programs as a foundational blueprint while using the Cybex Arc Trainer.
Before you begin, take a moment and check out a series introduction offered by Scott Moody which appeared in his original post. It offers a comprehensive description of the program and the context you will need before you begin.
New to the Arc Trainer?

Video: Getting Started
Using this Series
As you move progressively along each program in the Arc Trainer Exercise Series you will begin to understand the flexibility and programming diversity that has been built into the Arc Trainer.
Each program supplies the variety needed to keep your body properly challenged while always maintaining protocols of safe and gradual training progression. In this series, users will employ goal specific training practices. It is important to remember to measure expectations when measuring results.
Once completed, we recommend that you return and repeat earlier programs with greater intensity. To access each program, simply click the title of each program.
Five Arc Trainer Programs

(Click Title)
The perfect "Get Started" program for the Arc Trainer: designed to build an endurance base as well as a functional lower body strength base in just 2-3, quick 30-minute workouts per week.

TIP: General Fitness will jumpstart your fitness level if deconditioned.

To improve recovery, this 8 week program focuses on the ability of the heart to quickly recover during interval training by combining both aerobic and anaerobic training within the same workout.

TIP: Use this program early in the series to prepare for higher intensity interval programs.

Combining upper body activity (usually using dumbbells or bodyweight exercises) with the strength and cardio effect produced by the Arc, circuit style, this program challenges strength endurance in a high intensity interval setting.

TIP: When a Bravo All-In-One is not in proximity of the Arc Trainer, cover the distance with a complementing third exercise that travels. Or, simply bring alternative tools closer (such as dumbbels, bar or bench).

Especially for those dealing with overuse injuries, this program calls for an athlete to substitute one Arc session in place of one weekly training session.

TIP: As a preventitive tool, use off-day cross training in a program of varying intensities to address joint health.

Scott expresses it best: "Strength and power from a cardio machine?" This is just one program you'll need to see (and do). If you're a skeptic, no problem. Do as Scott did and just "try it out."

TIP: Give this one a go. You'll be happy you did!
---
Cybex is a provider and manufacturer of premium commercial fitness equipment. Content featured in the Cybex Fitness Blog is meant to inspire healthy living and wellness and should not be taken as medical advice. As always, be sure to consult a physician if you are unsure of your individual exercise readiness or have a preexisting medical condition. While these programs offer great benefits, there are many considerations that should be weighed before attempting any type of physical activity.