5 Tips to Fight the 'Freshman 15'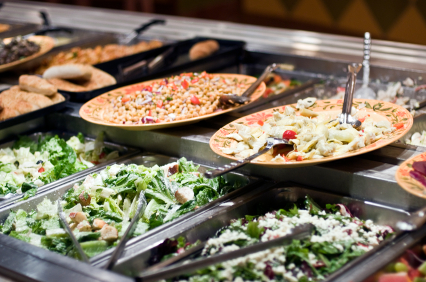 With a new academic year beginning across the country, more than 2.6 million first-year students will start their college careers. They will face numerous challenges, academically, financially, and socially. But they also face health challenges.
In a study conducted by professors at Washington University in St. Louis and published in the Journal of American College Health, 70 percent of students experienced "potentially significant weight gain" in the first two years of college. The study also found that participation in aerobic exercise declined over the same period, while low consumption of fruits and vegetables and high consumption of fast food remained steady.
While the study didn't pin down a correlation between the weight gain and changes in exercise and diet, it's clear there is at least some truth to the 'Freshman 15' legend. And the problem is a lot more serious than how you'll look come spring break. The decisions you make in your formative college years could set you up for success – or failure – in the "real world." As the Washington University research team noted, "Weight gain and behavioral patterns during college may contribute to overweight and obesity in adulthood."
That's why as you start your college career, it's important to make smart lifestyle decisions, and start healthy habits that should stick with you well beyond college. Here are five tips from the Cybex team to get you started:
1) Implement a Plan on Day 1.
University life is a whirlwind. From the moment you unpack, there are countless events and tasks to keep you busy, from the lecture hall to frat row. Before you arrive on campus, develop a plan that includes responsible eating patterns and consistent exercise, and begin implementing it the day you arrive. Creating healthy habits is a great way to prepare to fight distractions down the road. The Education section of the Cybex website features workout routines and helpful tips and tools for putting together your workout plan.


2) Take Advantage of Health Resources.
Many universities provide students with free access to state-of-the-art recreation centers – and a lot of them are stocked with top-of-the-line Cybex equipment like the Arc Trainer. Take advantage of these options. With built-in data management and entertainment options, modern exercise equipment makes working out an informative, enjoyable, and effective task. Many universities also offer health and nutrition counseling services that can help you make smart decisions.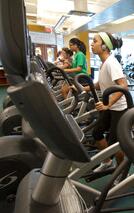 3) Diversity is the Spice of Life. While Cybex equipment features music and video options that are designed to make working out more engaging, it can still get boring to go to the gym and use the same machine the same way every time. Having a variety in your workout routine will keep your mind active and help develop different muscles groups, which will make your workouts more effective and reduce the risk of injury. A comprehensive workout that includes a variety of cardio and strength training is a good place to start. Check out Cybex's new apps and workouts section for a diverse selection of cardio and strength routines. New mobile apps like that offered by PumpOne makes it easy to walk into any gym and get started.
4) Make Smart Eating Decisions. Late-night dining, eating while you're doing homework, or eating the wrong things can take its toll in the way of added pounds and reduced energy. Eating the right things is important for a healthy mind and body. To fight off the "fifteen", "Knowing which foods are the most filling for the least calories is an important key to managing weight", says Cybex nutritionist Jeff Novick.


5) Drink Smarter. Sodas and energy drinks contain roughly 100 calories per 8 oz serving – or 150 per 12 oz. can – not to mention various chemicals and colorings that your body doesn't need. Alcohol also has a lot more calories than you might expect. Many "light" beers clock in at more than 100 calories. A 1.5-ounce "shot" of whiskey contains almost 100 calories. Add five ounces of sugary soda and you're over 150 calories in one drink. Perspective brings a new meaning to "drink responsibly." It's smarter the stick with water, which your body needs. But the conventional wisdom that you need eight 8-oz glasses of water per day might not be right for you either. Drink water smarter by thinking about how much water your body really needs.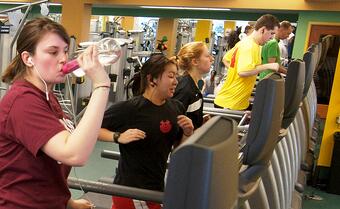 Connect with us on Twitter (@Cybex) and let us know what you're doing to fight the Freshman 15.