The White Way to Eat for Better Nutrition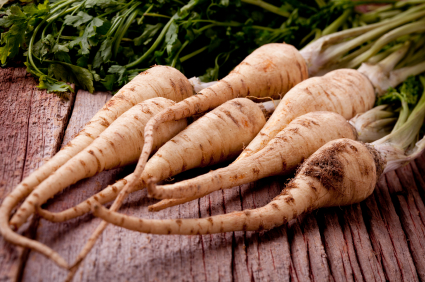 Parsnips are high in soluble fiber and can help reduce cholesterol.
Most of us know the importance of eating colorful foods such as: blueberries, tomatoes, kale, red peppers, purple eggplant and squash. Many studies have proven how impressive their nutrient profiles are. Plant-based "rainbow foods" contain vitamins, fiber, minerals, antioxidants, polyphenols, and phytochemicals—most of which cannot be simulated in processed foods.
But I would like to shine some light on the benefits of often-forgotten "white foods." Nature's plant, animal, and fungus kingdoms contain many tasty, nutrient rich foods to fuel our workouts and hectic lives.
Veggies and Fruits
Consider fiber-rich vegetables such as: parsnips, turnips, celery root, rutabagas, and cauliflower. Besides steaming, roasting, or baking, try mashing and seasoning them to make a low-calorie, low-glycemic option to mashed potatoes. Daikon, onions, water chestnuts, jicama, cabbage, sprouts, mushrooms, and garlic can jazz up salads or stirfries.
White beans, such as cannellini, garbanzo, and Great Northern, are inexpensive, protein-rich, and satiating vegetarian options. These beans boast energizing B-vitamins, iron, and potassium. Besides adding to chili, stews, and soups, try mashing them with olive oil and garlic to make hummus, bean dip, or a sandwich spread.
White-fleshed fruits such as apples, bananas, and pears provide healthy hydration, soluble fiber, vitamins, and potassium. Also, they are easy to pack into a gym bag, briefcase, or lunch sack to munch on the go.
Dairy and Meats
White milk, yogurt, and cheeses are calcium and protein-rich ways to fuel your active lifestyle. Whether from dairy, soy, almonds, hemp, oat, or cashews, read the Nutrition Facts label to help you choose options low in fat and sodium for optimal health. Greek yogurt is especially high in protein and now widely available in grocery and convenience stores.
Finally, white meats and seafood such as: chicken, turkey, scallops, white fish, and pork are low in fat and rich in protein. Soy bean curd—tofu—is bland but protein-rich food that is easy to incorporate into healthy recipes.
For new and inspiring ways to make fruits and vegetables a desirable part of your healthy eating regimen, check out the Center for Disease Control and Prevention's website: www.fruitsandveggiesmatter.gov . Each month, new produce is highlighted and recipes are provided. The site also gives complete nutrient content and calculators.
So enjoy eating a rainbow, but don't forget to eat white!
Holly Aglialoro
Guest Blogger and Fitness Enthusiast