Cybex Proudly Supports Breast Cancer Research
4th Annual Pink Ribbon Run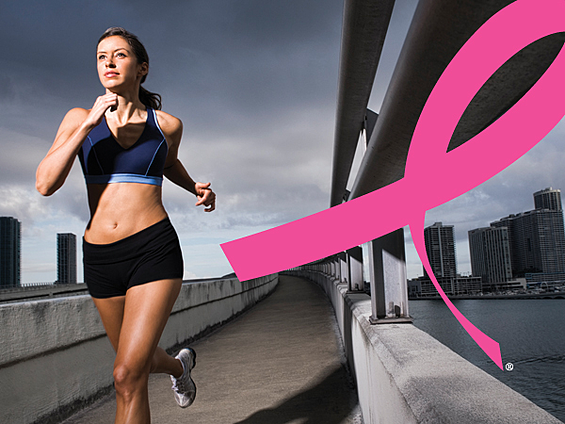 As you probably know, October is National Breast Cancer Awareness Month. But you may not know that you can help raise awareness and financial support for breast cancer research – not to mention reducing your own breast cancer risks – just by exercising.
The Pink Ribbon Run
Cybex is organizing its 4th annual Pink Ribbon Run with special-edition pink Cybex treadmills in fitness clubs in 43 states around the country. For every mile logged on the new treadmills, Cybex will donate 10 cents to the Breast Cancer Research Foundation. We have raised more than $100,000 for breast cancer research in the first three years of the Pink Ribbon Run, and are optimistic that this year will be our best yet.
Exercise as a Preventative
The Pink Ribbon Run is about more than just promoting awareness about breast cancer or raising money, however. It's also about highlighting the important role exercise can play in reducing the risks associated with breast cancer. Research has shown that women who engaged in 10 to 19 hours of exercise per week had about a 30% lower risk of developing breast cancer. Overweight or obese women who lose as little as 5% of their body weight through diet and exercise may lower their breast cancer risk by 22%.
Exercise is also important for women who already have breast cancer. One study found that two to three hours of exercise per week resulted in 40% to 67% reduced risk of death.
Raise Awareness and Reduce Risk
So the thousands of women who will participate in the Pink Ribbon in places like Middle Tennessee this month to benefit their local YMCA "After Breast Cancer" program are not only doing their part to raise awareness and funds for breast cancer research. They're also taking concrete steps to reduce their own risks by retaining and maintaining a healthier lifestyle.
To find a facility near you that is participating in this year's Pink Ribbon Run, visit our Pink Ribbon Run map. Make sure to share your photos of your Pink Ribbon Runs with us on Twitter (@Cybex).