How to Get Out of a Workout Rut
If you've been diligently logging in major mileage on the Arc Trainer or Cybex treadmill at the same intensity and same distance — for ages, you might be in a workout rut. If you just aren't enjoying workouts any more or aren't getting the same satisfaction or results you used to enjoy, it might be time to step OFF the treadmill for a week or two.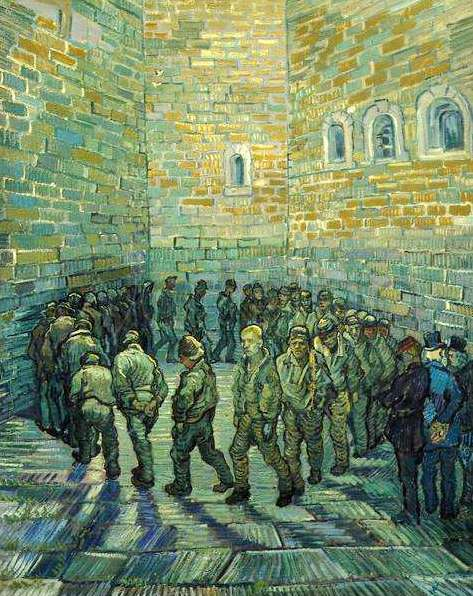 Is your exercise routine getting monotonous? (Van Gogh's Prisoners Exercising)
Spice Up Your Workout
If you're dragging yourself to go to the gym with dread and watching the clock during a workout or cutting out a little early, try a new fitness routine before you give up.
Take a break from the gym. You can still get a good workout without getting on the Arc. It is autumn and the weather in most parts of the United States is mild and manageable for a walk, run, or game of touch football. Trust me, the Arc and treadmill will be your ally during the cold, damp winter months. Use this time to embrace outdoor activities. Do some yard work or clean up a local park.
Try a new exercise class. If you've been doing the same circuit on the Cybex machines for months, try taking a class. Many gyms offer a variety to choose from, such as spinning, kickboxing, yoga, or fitness boot camp. Look around town for other fitness centers that interest you; yoga or martial arts studios usually offer a number of classes as well.
Work with a personal trainer. If you feel like your Arc routine isn't working any more, or you're at a loss for ideas on how to familiarize yourself with the array of Cybex machines at your gym, take a few sessions with a personal trainer. Trainers can help you come up with new exercises, routines, and challenges that can be both fun and effective.
Adjusting Your Workout Routine for New Results
If you feel like you're not getting the results you want, that's another sign that you may need to tweak your fitness routine. Being consistent and doing exercises correctly are important. "If people are consistent, that's the most important thing — and if they're doing the exercises correctly," says Jody Swimmer, an exercise specialist and owner of a gym in Louisville. "Then they'll have benefits. But they would have more benefits if they mixed up the exercises and the intensity."
Increasing the intensity of your workout has its benefits, but Swimmer warns against making it too challenging, either mentally or physically. And if you still think you're not accomplishing what you need to with your workout, hire a personal trainer for a couple of sessions.
How to Tell if Your Routine is Working
Whether you banish workout boredom or fine-tune your fitness routine for better results, the bottom line is that you know a routine is successful if you feel good. "If you feel better when you leave than when you came in the door, then it's a successful program," says Swimmer.
If you're feeling frustrated and bored at the gym, don't give up on Cybex. Find new fitness routines that you enjoy and look forward to, and occasionally take some time away from the gym to do outdoor activities. You'll come back to the trusty Arc Trainer and treadmill with renewed zeal.
Holly Aglialoro
Guest Blogger and Fitness Enthusiast
Cybex is a provider and manufacturer of premium commercial fitness equipment. Content featured in the Cybex Fitness Blog is meant to inspire healthy living and wellness and should not be taken as medical advice. For medical advice please consult a doctor.