5 Simple Strategies
for a Sane Thanksgiving
If you live in the United States, the approaching Thanksgiving holiday will have you surrounded by many irresistible food temptations. Thanksgiving Day is the beginning of the celebratory season of feasting and weight gain that often marks (or mars) our holidays.
The good news is that you don't have to resort to austerity measures to enjoy your pumpkin pie and not wake up on Black Friday bloated and discouraged. Here are 5 reasonable approaches to keeping your svelte physique this Thanksgiving: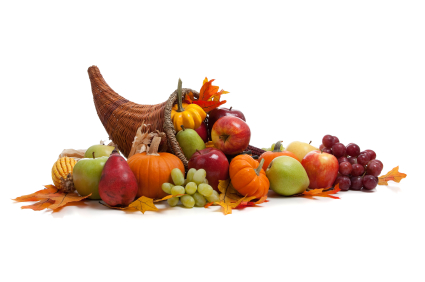 1) Put some extra calories in your "savings account."
For the week approaching Thanksgiving Day (November 22, 2012), cut back on some of your habitual discretionary calories. For instance, halve the amount of cream in your coffee, eat an open-faced sandwich at lunch, forgo bread at the dinner table, and have fruit or yogurt for dessert in the evening. Cutting back just 100 calories for a week gives you 700 extra calories to enjoy on Thanksgiving!
2) Don't put your pearls before the swine.
Sure, you want to savor special treats, but why not also avoid foods that you fill up on year round, thus re-allocating your calories rather than overeating. For instance, pass up the nutrient-poor white rolls, plain mashed potatoes, and boxed stuffing mix. Use those painless sacrifices for seasonal treats like Aunt Irma's sweet potato casserole and pumpkin pie with whipped cream.
3) Focus on the second syllable of Thanksgiving.
As my friend of mine admonishes, "gratitude is an action word." Take the focus off of the feasting and put it on the giving. Visit friends and family, help out at a local food bank, church, or animal shelter. Fill your heart with gratitude and your belly will not require excess food.
4) Remember how Miss Scarlet stayed so skinny.
If you ever saw the movie Gone With the Wind, you may remember that Mammy made the slender Miss Scarlett eat a modest plate of food before she went to her garden party. Why? Because if you approach a celebratory occasion with stable blood sugar and moderate satiation, you will not be tempted to overindulge. In other words, don't starve yourself before the big meal and it won't be such a big meal after all.
5) There is always tomorrow.
Chances are, this is not your last supper, so pace yourself. Think ahead about how you want to feel tomorrow when you wake up. Whether you plan to go on a Black Friday expedition, enjoy time with visiting family, or have a good Cybex workout, you'll feel much healthier and optimistic if you did not binge the night before. Besides, leave some room for yummy leftovers!
Everyone here at Cybex International hopes you have a safe, sane, and serene Thanksgiving holiday. Bon appétit.
Holly Aglialoro
Guest Blogger and Fitness Enthusiast