Today's spotlight is on a man who is a renowned personal trainer, user of Cybex equipment, and a legend in his own right, Larry Pacifico. With a wide smile and easy demeanor, Larry is a natural fit for the social and relationship-building aspects of personal training. He has 31 years of experience and knows how to get the most from his clients by offering knowledge, expertise and making it fun for them. However, what many do not know is Larry won 9 consecutive titles at the IPF World Powerlifting Championships and held 64 world records in the sport.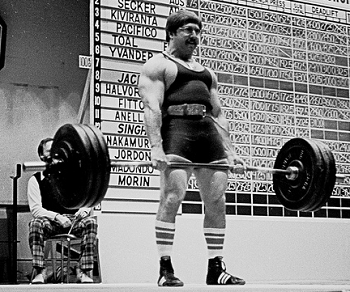 While Larry has shifted his focus from powerlifting to helping others reach their fitness goals, he still maintains a presence in the industry, as he and his son, Jimmie, opened
Pacifico Power Systems
, a powerlifting facility based in Dayton, OH, geared specifically to those who love to lift big.
Larry's clientele ranges from young athletes training for a specific sport, high-level professional athletes, individuals wanting to lose weight, as well as older members who want to maintain strength and mobility in their later years.
He stresses the importance of having separate facilities to cater these different mindsets. "There is not a one-size fits all approach to fitness. Everyone is going to want something different out of their experience, and my job is to understand that right from the get go."
Larry also talks about creating an environment for his clients that is non-threatening and approachable. "While my powerlifting gym is great for some, it is not for everyone. This is why I gear my one facility completely on those who are focused on weight loss, being active in their later years, or are recovering from injury. I see most of my clients thrive in this environment because it caters to what they are looking for; they are getting the results they want and are having fun doing it."
In a time when high-intensity functional fitness programs and weightlifting are becoming more mainstream, Larry maintains a more traditional health club atmosphere to cater to his personal training clients at Southside Fitness. While Larry supports other types of programming (and even promotes it at Pacifico Power), he feels machines should be an integral part of fitness for many individuals. "I like to keep my clients using the selectorized machines, because it allows them to train effectively, with less risk of injury (because of the defined movement patterns), especially for those who are older or are just starting out."
That is not to say that use of selectorized machines is not important for those who are focused on powerlifting. "Most of our powerlifting equipment is the pretty heavy duty stuff, but what is nice about the selectorized machines, and Cybex's in particular, is the heavy weight stack can cater to people at any level of strength."
While Larry does have a mix of equipment in his facilities, he does applaud Cybex for their focus on biomechanics, smooth movement patterns, and top-notch engineering. "Cybex has been the benchmark in the industry for years. I can't say enough about the attention to detail that goes into creating both the strength and the cardio machines, as well as the level of service and support I get from them."
To experience the versatility, durability and best-in-class engineering of Cybex selectorized strength machines for yourself, click here to learn more.