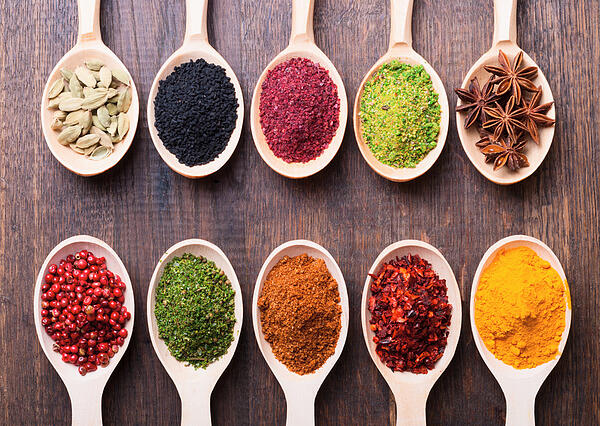 Antioxidant compounds have the ability to protect cells from free radical damage. Free radicals are molecules that have become unstable due oxygen exposure. The most prevalent causes for this are internal stressors, such as toxins (environmental, food, medication, alcohol) and excessive exercise (usually aerobic). Free radical damage can set the stage for diseases such as Alzheimer's and cancer. They also accelerate the aging process - contributing to skin wrinkles.
Popular antioxidants include vitamins C & E, beta-carotine, quercetin, resveratrol, berries, dark leafy greens, and spices such as rosemary, basil, and oregano.
Spices are often disregarded for their antioxidant properties, when in fact antioxidants are found in hundreds of herbs and spices. Many of them pack a more powerful punch than their more popular counterparts. It's said that ½ tsp of dried cloves contains more antioxidants than ½ cup of fresh blueberries.
Below are the top 5 antioxidant spices to combat free radical damage. Try them in your favorite dish or over a fresh salad. Buy them often and in small quantities to keep them fresh. Remember to store them in glass and away from light.
Cinnamon is a warming spice containing cinnamaldehyde, a known antioxidant in animal cells. Cinnamon ranks higher than spinach, chard, red cabbage, and Jerusalem artichokes. Recent research shows that ¼ teaspoon per day can lower blood sugar, cholesterol and triglyceride levels, which make it beneficial for insulin sensitivity and diabetes.
Ginger is a common ingredient in Asian food, popular for treating gas, indigestion, and nausea. Ginger contains gingerol, similar to the capsaicin found in chili peppers, which gives them their spicy kick. As an antioxidant, it ranks high in reducing oxidative stress in cells and organs.
Oregano is rich in phytochemicals such as thymol, rosmarinic acid, and humalogs (a derivative of vitamin E). Oregano has shown to have higher antioxidant properties than thyme, sage, rosemary, mint and sweet basil. Oregano has also been suggested to increase antioxidant activity in the brain and decrease yeast overgrowth in the body.
Turmeric is a traditional Indian spice. In addition to its antioxidant properties, it's also a powerful anti-inflammatory often used to treat arthritis, joint pain, and other inflammatory conditions. Aside from giving it a bright yellow color, the polyphenol compound curcumin gives turmeric its powerful benefits. Turmeric has been a focus in research, as it is believed to inhibit the expression of a gene that may be involved in causng breast cancer.
Cloves are rich in polyphenolic compunds and are also suggested to reduce inflammation. Of its antioxidant properties, anthocyanins and quercetin are the strongest. Additionally, cloves are said to enhance your body's own antioxidant properties.
How do you incorporate these spices into your diet? Share your favorite tips or recipes with us in the comments section below.
| | |
| --- | --- |
| | Chelsea Kmiec, Cybex Product Specialist |
Cybex is a provider and manufacturer of premium commercial fitness equipment. Content featured in the Cybex Fitness Blog is meant to inspire healthy living and wellness and should not be taken as medical advice. For medical advice, please consult a doctor.