In a recent blog by Susan Sotir, we talked about how music makes your workouts easier, helps you go faster, improves your endurance and helps you get ready for your event. Much like pairing wine and food, we think that certain workouts and songs are a match made in heaven. Here are a few of our favorite musical and workout pairings, why we love them, and when we like to listen to them. Maybe you will want to add them to your playlist too:
Why we love it:
Oh, dubstep, to some, you sound like grinding metal or noisy construction equipment, but you are a blessing for those of us who love to pick up heavy things and put them down again. Skrillex is a pioneer of this subgenre of electronic dance music (EDM) and this song is what started it all. For some reason, when it comes on, we want to pick up the weights with a little more enthusiasm, and maybe move through our sets a little quicker.
When we listen to it:
Bangarang packs a punch when you need to kick up the intensity in your strength training routine. Check out this workout using our line of Eagle strength equipment and crank up that bass:
Why we love it:
This upbeat, catchy tune is what you need to push on during a difficult part of your workout or get you pumped up to begin your workout (especially when you are dragging your feet - no pun intended).
When we listen to it:
This song is especially effective in the middle of longer cardio workouts on the Arc Trainer to keep you striding with enthusiasm until the end. Here is a sample of an Arc Trainer workout where you can crank up this tune, and keep up your strides per minute like the ceiling can't hold you:
Why we love it:
We know not everyone likes their workouts hip hoppin' or electronically charged, so we bring you something a little more organic and unstructured to get you through your cardio routine.
When we listen to it:
Phish has a way of making you want to move your feet, and make you feel good about yourself. Besides, the song has "run" in the title- maybe not such an unlikely pairing for our long runs on the treadmill or Arc Trainer. Because this song features long jams, it is great for those times when you need to keep a steady pace for a given period of time, such as in this workout:
Why we love it:
Sometimes we must draw from our deepest, darkest places to get the results we are looking for. Want to crush that mile run? Are you working toward a PR on that leg press? Get a little angry and watch the results come in. Unlike what the song title suggests, you will find yourself coming back to the gym for more.
When we listen to it:
This one is great for cardio or strength, but we blast this through our headphones when our workouts call for high intensity, like our functional strength workout. Keep it turned up for the times when you need to rev up, and churn out reps and results:
Why we love it:
This song is getting a lot of radio play recently and is one of the standout hits of the summer. You may have even heard it blasting in your gym once (or many times), but it has definitely become a go-to workout song for us because of its beat, bass and easy to remember lyrics.
When we listen to it:
This is another great one for strength training because it has a great tempo, but not too fast, which lends itself to controlled movements and focus you need while lifting weights. Try listening to it during this strength and cardio workout and see if you agree: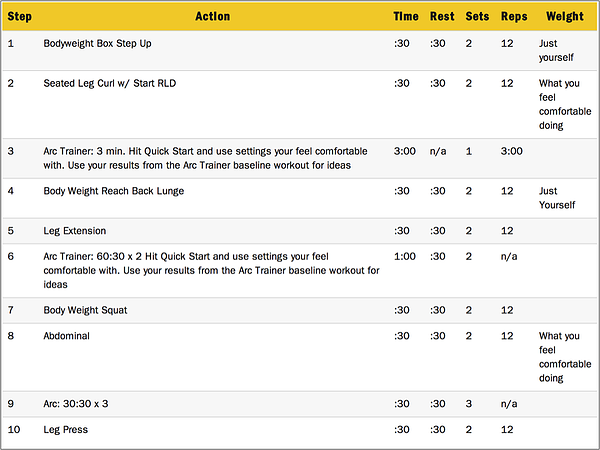 We also want to hear from you. What are your favorite workout songs you play when you workout? Are there specific songs you play during certain types of workouts? We look forward to reading your responses in the comments below.