The idea of paying it forward, repaying in advance the positive things in our lives by making a difference for others, has always been a core part of CYBEX's philosophy and mission.
At CYBEX we take pride in the fact that are in the business of making a positive difference, physically and emotionally, in the lives of countless people who use our equipment to get and stay fit and become more healthy.
Paying it forward is likewise a theme of this season of The Biggest Loser. Throughout the season you will see the contestants not just doing things for themselves but also for others around them.
We liked the idea so much we've decided to use our partnership with The Biggest Loser as an opportunity to take our own core value to a new level.
We've launched a CYBEX-The Biggest Loser Challenge within the company ranks. Sixty-seven teams of CYBEX employees at our facilities in Medway, Massachusetts and Owatonna, Minnesota are competing to see who can lose the most weight. The winners will receive a trip to one of the Biggest Loser Resorts—a once-in-a-lifetime experience.
In the coming year, we hope to work with scores of other companies to help them implement similar Biggest Loser corporate fitness challenges. We encourage companies to do this not just because healthy and fit employees reduce absenteeism and healthcare costs, but because it is the right thing to do.
We've also expanded our Pink Ribbon Run this October, Breast Cancer Awareness Month. For every mile logged on a pink CYBEX Arc Trainer or treadmill at fitness facilities worldwide, CYBEX will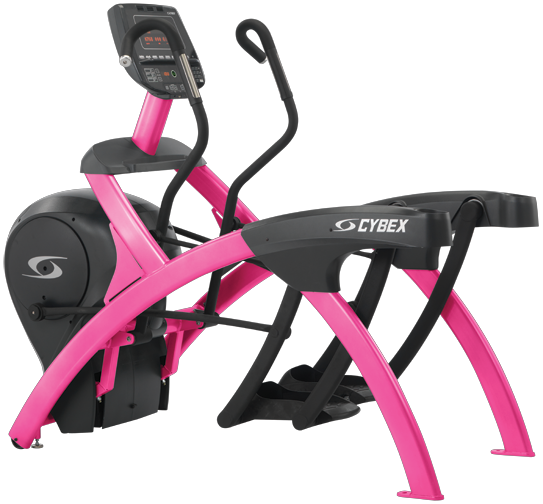 donate money to the Breast Cancer Research Foundation. This year the Run includes not just pink CYBEX treadmills but also Arc Trainers. And, through our partnership with The Biggest Loser we will soon announce a major new twist to our breast cancer awareness and fundraising efforts. We promise it will catch your eye.
We are especially proud of and committed to our efforts to help fight breast cancer. This disease is the second leading cause of cancer death among women. American women have a one-in-eight chance of having invasive breast cancer at some point in their lives.
However, too many women are unaware that they can significantly reduce their risks of getting breast cancer by working out and getting fit. And, far too many women also don't know that getting fit and exercising can increase their chances of survival if they develop breast cancer. As a fitness company we bear a special responsibility to help get that word out—and our pink ribbon efforts are all geared towards raising that awareness.
Finally, we are also excited to Pay It Forward through our partnership with The Biggest Loser itself. The contestants on The Biggest Loser face enormous hurdles. They suffer from extreme cases of obesity, with all the physical limitations and health risks that come with it. They have suffered serious emotional challenges—if nothing other than the stigma that typically comes with being seriously overweight. These contestants compete not just for the prize money. They compete to be alive long enough to see their kids grow up. They compete so that they can get in shape to have kids and raise a family. They compete to recapture their lives.
We can think of no better way to Pay It Forward than by helping these incredible people succeed in achieving their goals.