Yes, it is sturdy, and no, it is not a Cybex, it's a Krups. A Krups programmable coffee maker that I got at a yard sale five years ago. See, I tend to ignore conventional alarm clocks, and even when I don't, the jarring noise keeps a sense of "alarm" pervading my day. I don't need the extraneous stress. I also know myself enough to realize that if I don't get to the gym to work out BEFORE my shift at work begins, I will not bother going after work. So—what motivates me to wake up very early in the

morning, leaving behind my snuggly, warm blanket and even more snuggly kitten? Coffee! Ah, the smell of freshly brewing coffee elevates me from my beckoning bed.
The night before my "date" with the Eagle Line at my local Planet Fitness, I fill my programmable coffeemaker with Organic Italian Roast coffee, fill with water, and set the "NONalarm" for 20 minutes before I need to wake up. By the time I stumble out of bed and slurp a few sips of those glorious ground beans, my desire to chisel my "temple" returns.
What motivates YOU to adhere to your fitness goals? Are you creating unnecessary obstacles, or are you discovering clever tricks to keep you on track. I would love to hear your ideas and solutions.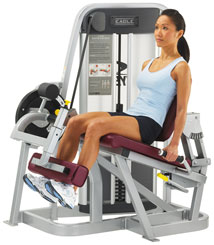 My other winter weather workout "trick" is that I sleep in my workout sweats, and leave my gym bag—packed with my work clothes—by the front door. That makes it much easier to get to the gym and keep my appointment with the Eagle line—which is definitely NOT $20!
Holly Aglialoro
Guest Blogger and Fitness Enthusiast