This week the contestants on The Biggest Loser will venture outside the Ranch's gym and travel to Camp Pendleton to train with the Marines. CYBEX has a really good sense of just how hard the Marines will be pushing the contestants. We recently launched a new line of military Arc Trainers, each dedicated to a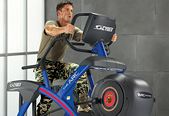 specific branch of the military and decked out in the branches colors. The Marine Arc Trainer, colored in "dress blue" with a "blood red" stripe, is the first of the series to be released.
Even the military isn't immune from the weight issues facing our nation. One of the biggest concerns in military recruiting is the overweight population. The military has had to turn away interested individuals due to their weight, nearly 27% of individuals in the prime military recruiting age range are "too fat to fight."
With weight becoming an increasing issue, fitness is a primary concern of the military. Whether working out on the Biggest Loser Ranch or training for the military, CYBEX Arc Trainers enable individuals to gain the most from their workout. And, we know of a number of different units that have undertaken weight loss challenges patterned after The Biggest Loser.
We are excited to see the contestants and the Marines, who train using the same equipment, come together this week. OORAH.