Many runners often begin to experience knee pain as volume increases during their training programs. This increase in patellofemoral pain has been linked to several factors, which include:
Weakness of the muscles and connective tissue around the knee joint (local factors)
Gate mechanics (distal factors)
Weakness and faulty kinematics at the hip and pelvis (proximal factors)
Sometimes, as fatigue sets in during long runs, weaknesses and poor gate mechanics can lead to overuse injuries during the repeated pounding on the knee during longer runs. This is actually quite common as approximately 2.5 million runners are diagnosed with Patellofemoral Pain Syndrome each year.
While the best option might be to consult a physical therapist or running coach to work on strengthening both the mechanics and the muscles above, another option might be to supplement a day of running for a day of cardiovascular strength training on the Cybex Arc Trainer.
As discussed in other posts and studies provided by the Cybex Institute, the Arc has shown to improve everything from functional power and strength endurance to heart rate recovery and general aerobic capacity. This makes for an ideal environment for off-day cross training.
In a recent case study with runner experiencing knee pain just five weeks prior to his first marathon, we suggested cutting out one day of running and adding one day of Arc Training. After making these adjustments to his training program, he decreased his knee pain entirely by the race date.
The subject set the Arc at a comfortable resistance setting of 30 and an incline of 6 to begin on week one. As the pain decreased in his knee, he felt he could tolerate more speed and increased the cadence from 120 strides per minute (SPM) in week one to 160 SPM in week 5 shown here in the graph below: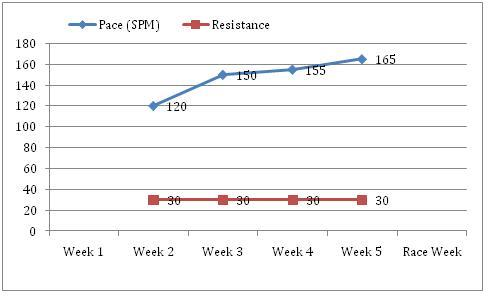 As a result the subject completed the marathon in a time of 3:48 and ranked 24 out of 106 in his age group. He reported no pain in his knee during the marathon, and felt as if the cross training on the Arc had not only allowed him to participate in the race, but allowed him to confidently run, with what he felt to be, to the best of his ability.
Whether you are training for a marathon, a recreational weekend warrior or an elite athlete, mixing the Arc trainer into your weekly program can help in many areas. By decreasing the pounding on the joints and providing an environment of cardiovascular strength training, the Arc is proving to be a great complement to any training program.
Scott Moody
Founder and CEO Soccer F.I.T. Academy
www.soccerfitacademy.com