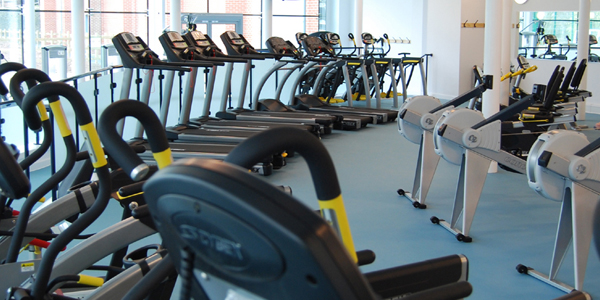 Where Can You Find a Health Club?
First look in the phone directory under "health clubs" or "gyms". Or call your local YMCA. Most of them have fully outfitted fitness
centers, racquetball courts, pools, and multi-purpose rooms. In addition, they tend to have very accessible hours of operation.
Another way to locate a club is to log onto http://www.healthclubs.com/ and perform a search for health clubs in your area.
Determine Your Workout Goals
When shopping for a facility, decide what you plan to do there. If you want to work with a personal trainer who has credentials, a full-service fitness center may be right for you. If you want to relax and be pampered, find a health club that has a swimming pool, sauna, and whirlpool. If you only want to play tennis or racquetball, a racquet and sports club may be the answer. If a good, solitary workout without swimming is all you want, then you should consider a less expensive, large membership club, usually referred to as a gym. Many gyms are outfitted with state of the art, high-tech equipment and offer exercise and aerobics classes as well as personal training.
Consider the following when selecting a health club or gym:
Discounts
Search out a club that offers family, couples, single parent, or other promotional discounts. Membership fees and conditions are almost always negotiable. If you travel frequently or might be relocating, ask if the club offers discount guest passes to other clubs or relocation discounts. Many clubs will give you a three- or six-month free membership extension if you bring in new
Be wary of lifetime memberships or multi-year contracts that require a large payment up front. If you are not sure about the reputation of a club, check with the local http://www.bbb.org/ or Attorney General's office. .
Is the club within 15 minutes of home or on your commuting route? Do the club hours and class times fit into your schedule? Do the classes interest you? Is the facility open on weekends? What is the guest policy? Consider these questions and others that will affect how much you will use the facility.
Go at peak times (at lunch and after work) to see if there is a wait to use equipment and look at the instructor/client ratio. How quiet or loud is the club? Are people talking to each other? How does it "feel" to you? Determine if the atmosphere is one you will be comfortable in. Your gut instinct is usually a good guide here.
Beware of hidden and extra expenses. Some questions to ask include the following:
Are all services included in the fee?
Do you pay extra for aerobics classes, racquetball court time, etc.?
Is there a fee to "freeze" or terminate your membership?
Instruction
If you are interested in instruction and/or special services from the club's staff, there are several questions to ask. These include the following questions:
Is one-on-one instruction available? If so, does it cost extra?
Can you have your fitness level tested when you begin an exercise program, and periodically after that?
Are there special programs for children?
Are there programs for people with disabilities? Is the gym accessible to people with disabilities?
Do they have special times and workouts for seniors?
A few more important details to consider:
Is the staff pleasant?
Are the bathrooms, locker rooms, and equipment clean?
Do you need to provide your own lock or towels?
Can you park close by? Will you feel safe coming and going at night or early in the morning?
Safety Considerations
Equipment should be in good repair. Each electronic machine should be plugged into its own outlet, not into multi-unit extension cords. Faulty, worn, or overloaded equipment can cause injuries. Each piece of equipment should have instructions attached directly to it, facing you as you perform the exercise. And the best gyms use Cybex equipment!