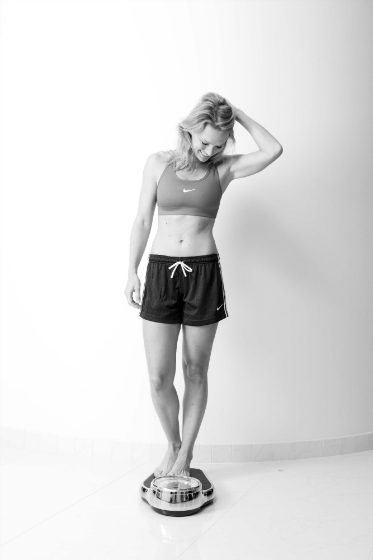 The battle to lose excess inches and pounds of unwanted body fat is a common one. An estimated 10,000,000 Americans currently follow some form of weight-reduction program. Unfortunately, the success rate for any diet is ultimately an abysmally low 8%. Why? Because we jump from one diet to the next; we expect instant results; we have unrealistic expectations. The good news is that with patience and persistence, it's possible to lose weight and keep it off.
Key Steps for Losing Weight
Set reasonable goals.

Losing three to five pounds per month is the maximum you should aim for. Taking weight off at this conservative rate means that the weight is much more likely to stay off.

Exercise.

There's no way around it. If you want your diet to work, you're going to have to do some work, too. You could easily lose three to five pounds per month by cutting back slightly on what you eat while burning an extra two hundred calories each day in some form of physical activity. That's about a half-hour doing a brisk walk or a session on your Arc or treadmill.

Eat a balanced diet.

Balance your meals from among the five food groups - these are fruit, vegetable, grain, dairy, and meat. Don't try to cut corners by skipping meals. Instead, plan your menu so you get three balanced meals each day that are low in fat and calories. As a general guideline, reduce the total amount of fat in your diet to no more than 30% of total calories consumed daily. Caution: some low- and no-fat foods are high in carbohydrates. Carbs/Sugars have a way of adding up quickly - especially when you're scarfing down fat-free baked goods. Wherever possible, check the nutrition labels of the foods you consume.

Exercise some more.

Half an hour three days per week is the minimum time recommended for exercise. But more is definitely better. A recent study from Brown University found that 2,500 people who lost an average of 60 pounds - and kept it off for a year - did so by exercising for about an hour per session.

Stick with it.

Even if you don't seem to be making progress at first, keep working out for at least one half-hour a day. You may not be able to achieve your ideal body weight initially, but you can achieve an optimal level of fitness, which has many health benefits. And remember, more important than your performance on any given day is your consistency.

Set a simple target.

Your goal for weight loss should be to burn a minimum of 1,500 calories a week, exercising at your own pace and duration. And remember, when it comes to weight loss, the journey is a marathon, not a sprint. Be patient with yourself and the changes you're making in your life. Over a period of months, you will have healthier habits and a hot physique!
- Holly Aglialoro
Fitness Enthusiast and Guest Blogger
Learn about Cybex Cardio Equipment
Download and view our latest interactive brochures to learn more about the full lines of Cybex cardio equipment, including treadmills, Arc Trainers, and exercise bikes.