One of the most common questions we get here at Cybex is, "how is the Arc Trainer different from an elliptical trainer?" Both are cardio devices, and both eliminate the shock that's associated with running. But that's where the similarities end.
What makes the Arc Trainer different?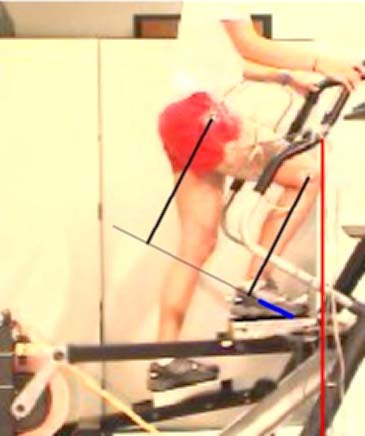 The most obvious difference is inherent in the names, which describe the motion of the footplates. On the elliptical, the footplate moves around in an ellipse, while on the Arc Trainer the footplate moves...well...in an arc! This may seem trivial to some, but to us, it means a world of difference.
So why did we design the Arc Trainer this way?
Well, let's start by looking at what happens when someone uses an elliptical. As a user pushes down on one footplate, the opposite footplate moves around the ellipse until it reaches the apex of the pattern. But this isn't the starting position, and in fact, the user actually has to push the footplate further forward until it reaches the point where it can move down again.
Pushing the footplate in this way actually places a lot of stress on the knee joint, which, by the way, never happens at this point of the movement during walking or running. In fact, the stress is great enough, that over time, it can cause a painful overuse syndrome. At best, it just limits how much you can do on ellipticals.
So in designing the Arc trainer, we didn't want to place that kind of stress on the knee.
With the arcuate motion, you push down on the pedal, and when it reaches the bottom, the opposite pedal is already forward and ready for you to shift your weight and drive it down. No unnecessary forward pushing here.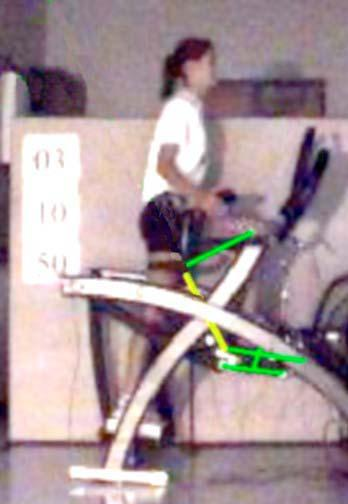 Also, by maintaining a level foot plate, instead of a tilting one, like on ellipticals, we can control the direction of forces too, and in this case, we direct them so that they create an optimal balance of quad, glute, and hamstring activity.
How can we control the direction of the forces? That's easy… we measure them, as we do with every device that we make. We use a highly specialized, instrumented footplate that can measure the amount and direction of forces off the foot plates. Then we position them so that all of those forces are just right.
What does this mean to you?
Well first of all, greater activation of the glutes and hamstrings means increased energy demand, oxygen consumption and calorie burn. Those muscles also stabilize and protect the knee, so there's less stress and improved comfort during your exercise session. You can work out at a relatively low intensity, or if you choose, an extremely high intensity.
You'll be exhilarated by the effort, but not stressed by the machine. Now try doing that on an elliptical!!
Paul M. Juris, Ed.D.
Executive Director, Cybex Research Institute


Dr. Juris earned his Doctorate in Motor Learning from Columbia University in 1993, followed by a variety of positions in higher education, rehabilitative medicine, professional sports, and fitness. Paul Juris, Ed.D. was named Executive Director of the Cybex Research Institute in January of 2007.
The Ultimate Fitness Test
We recently put together the industry's first comprehensive review of non-impact cardio trainers, looking beyond the hype to focus on what truly matters: science and fitness impact for users, ROI for gym owners. See the research for yourself.
---
Cybex is a provider and manufacturer of premium commercial fitness equipment. Content featured in the Cybex Fitness Blog is meant to inspire healthy living and wellness and should not be taken as medical advice. As always, be sure to consult a physician if you are unsure of your individual exercise readiness or have a preexisting medical condition. While these programs offer great benefits, there are many considerations that should be weighed before attempting any type of physical activity.