It's too soon to pick winners and losers but last week's show clearly reinforced a few trends that I am seeing.
Rulon and his partner, Justin, are absolute stalwarts. Being a former Olympic athlete, Rulon has a huge advantage. All he has to do is re-discover that vigor, harness it, and ride it in to a position in the finale.
I'm already seeing Rulon getting back into the zone. Once you've had that discipline, kind of sports training, no matter how long of a break you take from the activity, participating in a physical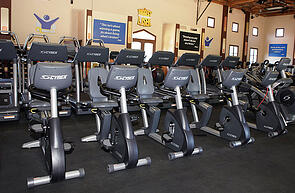 challenge is much easier. Not to sound too cliché, but it truly is like riding a bike.
The free weight challenge showed that the yellow team is playing at an entirely different level. They took into account their physical capabilities and approached the challenge with a strategic mindset. They began the game by tossing their light free weights early on and stockpiling their heavy weights for later use. The yellow team saved their 35 and 25 pound free weights for last so that, in case of a tie at the end, they could bring it home.
With that plan, it became easy to quickly catch up to the gray team, who relinquished their heavy weights early on. Now that's game play at its finest!
While I think the yellow team is going to be tough to beat, there are lots of great competitors this season. I know a number of them from the qualifying for last season and am pulling for them to do well. Sara from the pink team and Arthur and Jesse from the blue team were alternates for Season 10. Our time together during auditioning for the show was brief but I consider them friends. They're losing weight, working hard and turning their lives around.
This episode was the first week in which the unknowns faced elimination. The Bob and Jillian competitors were given a deal. The entire group would be granted immunity if they reached and surpassed a cumulative 48 pounds during the weigh-in. With a grand total of 63 pounds they succeeded.
As a result, the unknowns got their first taste of elimination. Having been there, I can tell you it isn't fun. Even though the red team lost a total of 24 pounds, it didn't measure up to the other teams; Q and Larialmy were on the chopping block.
Before letting her fellow contestants make the decision, Larialmy asked them to remove her from the show instead of Q. She sacrificed herself so her husband Q, who needed the program more, could stay on and lose as much weight as possible. This is the selfless side of the show that makes it special—while it is in the end a game, there is a lot more to it. Larialmy spent her time wisely on the Ranch and is now ready to lose the weight at home. Larialmy, stick with it. We're all pulling for you.
Now, in contrast to Larialmy, lets talk about the gray team twins. They removed themselves from the competition for personal reasons. To me, this was a major disappointment. There are thousands of Americans who deserve a spot for this opportunity—they'd do anything to have a shot. I would never have forgiven myself for taking their spot if I left the show because I was homesick.
Don't get me wrong, I know what they were going through and I know how hard it can be. I experienced my share of difficult times, as well. I have two sons and a fantastic wife and missed them terribly every single day. But, I realized it was now or never. I knew that my three months away from them to get healthy would buy me many more years with them.
On the show or off, getting and staying fit isn't easy. It is tough finding time to hit the gym day in and day out with the busy schedules we all keep. And, I know how daunting it can be to face the reality of needing to lose a lot of weight. That is the main reason why I joined CYBEX as a Fitness Ambassador. This gives me the chance to cheer you all on. If you spend 30 minutes a day on the CYBEX Arc Trainer and build strength on the Bravo, that combination will buy you years of precious time with your family, friends and loved ones. Talk about a great investment in time. Get moving.
Patrick House
The Biggest Loser Season 10 Winner
CYBEX Fitness Ambassador