"There's no free lunch." Arthur, buddy, if you haven't already learned this lesson, I hope you know that by now.
As the winner of the chocolate challenge, he was given the power to vote one couple over to the Unknown team. Instinctively, Arthur chose to exile the Green Team. He was skeptical of Jay and Jen's motives in the competition. Being the heaviest contestant on Bob & Jillian's team, he has to not only lose weight, but rely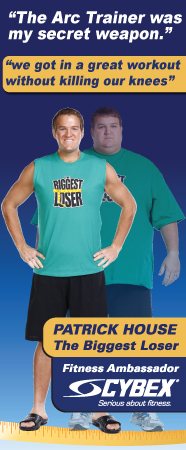 on strategic measures to stay in the competition. That being said, he jumped for the opportunity to gorge the sweets, and to alter the team dynamics in his favor. Red lights and a blaring alarm should be going off in your mind. Com'on Arthur, that's just too good of an opportunity to be true!
Arthur's approach completely backfired. By following his ridiculous self-interest, he tossed two good competitors for his team and strong-armed all the other Bob and Jillian players. His actions stirred up animosity, and he neglected to consider the repercussions of game play. To be an effective competitor, you need to take into account all the factors and parties involved in the scenario.
It's pure competition. Take initiative and think for yourself, or someone else will. But, never forget to be smart about your decisions.
In Arthur's case, he made a snap judgment that upset his teammates and spoiled the unified teams.
At the same time, the red team wasted an easy win in the final challenge by not knowing the nutritional information of past favorite eats. Given that these contestants are placed in a fitness bubble, you would think they would devote not only their physical self to the competition, but also take on the responsibility to be healthier. To be successful at losing weight, you need to have the physical stamina, mental willpower and a sound nutritional regimen. Quite frankly, like Justin Pope said,"it's embarrassing that they couldn't figure out the calorie intake for each entrée."
On the show and in your life - if you want to be healthy—you have to monitor what you eat. The Biggest Loser kitchen is stocked with lots of delicious fruits, vegetables, cheeses, lean meats, fish and grains but there are definitely foods that could railroad your daily calorie intake. My daily caloric intake goal was 800 calories! Think about it...if you eat 30 cashews a day that's almost half of my caloric intake right there. To be successful, you have to know what you're eating, be cautious, and stick to a nutritional routine.
On a more positive note, I want to congratulate Moses for breaking the record to be the fastest to reach a 100 lb weight loss. Not only did he prove to the others that weight loss can be achieved with dedication and hard work, but also to himself that there are no limits to achieve success. If you're overweight and looking for proof you CAN make a change, look at Moses as great role model, an inspiration.
Patrick House
The Biggest Loser Season 10 Winner
CYBEX Fitness Ambassador