After 8 weeks of separation from their families, the contestants finally get to go home to see their loved ones and share their progress with them. As a previous contestant, I think I speak on behalf of every participant when I say there is no better motivator than to be surrounded by your family and friends.
Even so, the time spent at home isn't all R&R (rest and relaxation). A contestant's retreat home puts them right back in the same environment that enabled their bad habits in the first place. Like Austin said, "I return home a man with a changed outlook and approach to life, but that doesn't mean my friends and family have too. I've got to learn to stay strong within my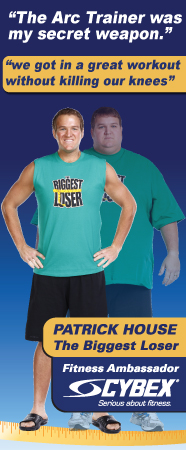 old environment."
It's all a test of willpower. Some use what they've learned on the ranch and adapt to their environment, others fall short of the assumed expectations for them.
Tons of candy and junk food surrounded Courtney at her job at Dairy Queen. But, she resisted the temptation of shoveling down the comfort food. She was happy to eat a chicken salad. Why? Because her one decision, was going to amount to additional years of lifespan, and lead to thousands of more opportunities to enjoy life. For all of you out there think about that trade off next time you reach for the chips or Blizzard.
Austin didn't even treat himself to a piece of cake on his 21st birthday!! His friends egged him on to taste the cheesecake they bought for him, but he resisted. He knew that based on his past track record and the knowledge he gained from the ranch, it wasn't worth risking his progress for one night of indulgence. Way to stay strong Austin!
Never do yourself an injustice by taking for granted what you've accomplished. It's the little decisions that matter and lead to greater achievements. Like calories, they all add up.
Without Arthur's persistence to lose weight, he never would have been able to safely travel with his son behind him in a car seat. There comes a time when you realize you're not only risking your health, but also those of your loved ones.
If you recall from the episode, that experience was Arthur's Biggest Loser "Aha Moment." My own Biggest Loser moment occurred on my trip home before the last stretch of season 10.
After the final four were announced, they let us come home for a break. My journey required a plane ride. To the average person, traveling on an airplane is a conventional mode of travel, but to me, before my involvement with the Biggest Loser, flying was an absolute nightmare. No seatbelt was ever big enough to strap me in. I was so embarrassed that one time upon exiting the plane, I snatched a seatbelt so that next time I boarded, I wouldn't have to ask the flight crew for assistance. I'm pretty sure by this description you can gauge my excitement when this time things were different.
When I sat down in my seat, I picked up the buckles and joined them together for the first time in my life! I couldn't believe it. I turned to the lady next to me and said, "It fits!" She looked at me like I had 16 heads. A simple action such as being able to buckle your seatbelt held no significance to her, but to me, it meant the world. When we got off the plane I made sure to return the extender belt to the flight attendant. I didn't have a need for it anymore.
From that moment forward, I realized I had a destiny and nothing was going to stand in my way of achieving it. I'm living proof that one decision to be a self agent and take control of your life pays dividends.
When Sarah dogged the treadmill challenge, it was because she didn't want to deal with the potential repercussions of the situation. She tried to cop out of the physical test so that she wouldn't have to be mentally and emotionally accountable for determining which trainers she preferred. Whereas Arthur, knew the trainers that advocated for him and what team he needed to be on to remain in the competition. Out of fear of hurting the feelings of one set of trainers, she was going to give Arthur a free pass to stay in the competition. Why on earth would you help the individual who risked your position on the show, continue on? Reality is there comes a time when you have to stop putting others before yourself. Most likely, that's how you got to your current obese state in the first place.
A participant's goal is to lose weight and acquire the emotional skills to launch a tremendous comeback. Late in the game, Sarah realized the need and value in acting in one's self interest. It was a close call, but she beat Arthur, and chose the black team to help herself. In the end, it was really her willingness to finally put her self first that led to Arthur's elimination. But Arthur did this a few weeks earlier so why shouldn't she? Sarah did what was best for her and bolstered her odds of winning the grand prize. She also guaranteed herself extra time on the Ranch to keep dropping weight, getting fit and getting her life on track.
It's a competition folks. When all is said and done, you go home to your family, not to Arthur's or to anyone else's. I doubt that your loved ones would be satisfied with a complacent surrender speech like, "hey, he or she needed it more than me."
If you are obese and want to make the changes necessary to do something about it, no one needs it more than you. That goes for not just those on the show, but for all of us.
You're not only selling yourself short, but your family too. There's a way for the show's participants to work together in the battle of obesity, but at the same time fight for their individual right to be the Biggest Loser. I had to do this because the existence of my family depended upon it—as did my life itself. Being the Biggest Loser became my job.
Patrick House
The Biggest Loser Season 10 Winner
CYBEX Fitness Ambassador