In my book, just living on the Biggest Loser campus is an adventure in itself, but sorry NBC the lodge ain't nothing compared to an all expenses paid expedition to Auckland New Zealand!
Think about it . . . for folks who previously couldn't get in a car, walk up a flight of stairs, the trip is mind blowing. New Zealand is a Mecca for thrill seekers. After the other night's episode, scratch that conception outta your minds, because X marks the spot on Auckland for the Biggest Loser crew.
However, for me the greatest part of this episode was the overwhelming sense of urgency within these guys. They all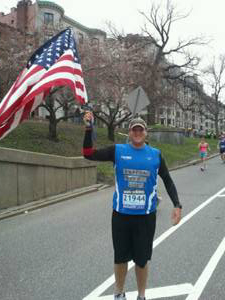 reached a point in their journey of weight loss where the circumstances of the competition changed for them. Their outlooks morphed from "how can I change," but rather, "will I."
Standing at the top of the tallest scrapper in the Southern Hemisphere, the group was given the opportunity to do one of the most dangerous things known to man-- jump off it. Ken was visibly and mentally shaken by the challenge. But he put things into perspective, "I've climbed 1,267 steps to get to the top. I'm here on the adventure of a lifetime and been given the opportunity to face my worst fear, I need to prove to myself that I can do this. This time around I need to start my new life off right. Plus, I mean if Bob, a nationally acclaimed physical trainer, is an acrophobic and he's going to tackle this feat with me, how can you say no?"
After they safely dropped to the landing pad, triumph was written all over their faces. And if you don't believe me, rewind the tapes to Bob's response, " I just jumped off of the BLANK, no big deal."
I can only imagine the surge of adrenaline jolting through their bodies when they jumped. And, don't forget, having the ability to participate in these thrills is a blessing to us folks who previously were barred from joining any physical activity because of our weight.
Obesity boxed them in and now, Biggest Loser, showed them and America how to break down those walls. And remember, it's not about the start or the order of finish. It's the journey and crossing the finish line that matters most. Like Jay said, "You know, I may not be fastest contestant and yeah I'm not always going to finish first, but I'm no longer afraid to join in and finish the job."
The main challenge this week for the folks was a 5k New Zealand style marathon. Truth-sayer Austin called the game epic. It sure as heck was! The physical vigor it takes to go through that course is undoubtedly at the level of pro athlete. Before the Biggest Loser casting, that challenge never even entered their minds. I felt the same way about running a marathon.
Look back. They went parasailing and did yoga (which, I'm convinced is solely for the gumbis and spiritual gurus of our world). What once was impossible or considered a luxury is now an option and one that they can healthfully indulge in! I ran in the Boston Marathon for precisely the same reasons.
Pause and reread my previous sentence.
From where I started and how far I've come, the magnitude of this accomplishment for me is unfathomable. I can't contain my pride. And you know what, why not let it show?
If you fight and never lose faith, there are no limitations to your success. I knew I didn't have to finish first, but I sure as hell knew I was gonna finish it.
Patrick House
The Biggest Loser Season 10 Winner
CYBEX Fitness Ambassador