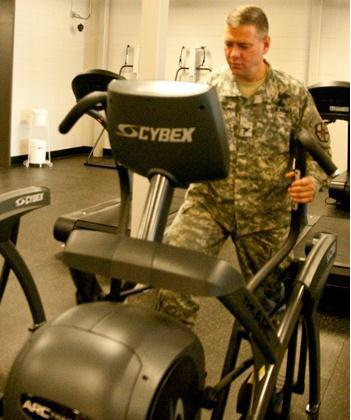 Last week the news media spent considerable attention on the performance of our Navy SEAL's, all US Military Special Operations and the present revision of our military's focus on physical training. I have an opportunity on a daily basis to see how magnificent our troops are from every branch of our military. In my estimation, they are the smartest, best-trained, most focused war fighters our country has ever seen. They also have seen more deployments, more combat and more separation from their families than in any time past. They pay a price for this with their lives, potential injury, physical pain, Family and mental stress, for which we will never be able to thank them enough.
The physical training that our troops are receiving is contributing greatly to enable them to perform to these extraordinary requirements. There is a radical shift that is taking place in all the branches of the military regarding physical training regimens and philosophies. The understanding now exists at the very highest levels of the military that a major focus needs to be placed on strength, power and endurance as well as cardiovascular fitness.
CYBEX's focus the last 2-years has been to bring our enabling technology to the attention of the human performance directors and military fitness specialists. The adoption of CYBEX into these applications are strong and growing.
Most Navy SEAL's now have access to the Arc Trainer at their training facilities. Seals are training daily using the Arc Trainer for appropriate warm-up before their grueling training sessions and for high intensity interval training at specified periods based on their mission status. It is also being used for recovery for those returning from missions and is one of the only modalities that enables them to train their exhausted bodies, (particularly knees and hips) with enough intensity to stay in a mission ready status.
Our aircraft carriers and larger vessels are now being loaded with Arc Trainers and Bravo's as they return to Norfolk, Virginia. The Bravo is experiencing very heavy utilization and has become a favorite training device.
The Marine Corps has found the Arc Trainer to be an outstanding tool in helping Marines to prepare for their Combat Fitness Test as well as overall Combat Readiness. The reason for this is the Arc's ability to safely enable dramatic improvements in strength, power, speed and endurance as they are able to uniquely train at intensities up to 900-Watts at Combat Simulated weights.
The Air Force will open its first high intensity facility at Eglin Air Force Base in June. The Arc Trainer will play a big role at this facility. The Army just opened its first dedicated high intensity gym, Frederick Physical Fitness Facility, at Fort Bragg and the Arc Trainer plays a large role in enabling soldiers to train at the intensity levels that contribute to higher levels of combat readiness.
There is more that is unfolding on a daily basis with regards to the adoption and recognition of the power and quality of CYBEX products.
I want to personally thank every Cybex employee for the contribution that you make to enable our troops to train harder, more efficiently and more effectively - which contributes to our troops being stronger, more prepared, and more able to return safely and continue to keep this nation safe.
Every weld, every assembly,every perfect shipment, every accurate quote, every enthusiastic personal contact by our staff, every informative marketing piece, every job that all of our employees do on a daily basis is contributing to our rapid adoption by our military, and thereby helping our outstanding troops having access to the most beneficial empowering Cybex technologies that help them fulfill their mission.
Thank you!
Paul Trammell
CYBEX-GSA Team