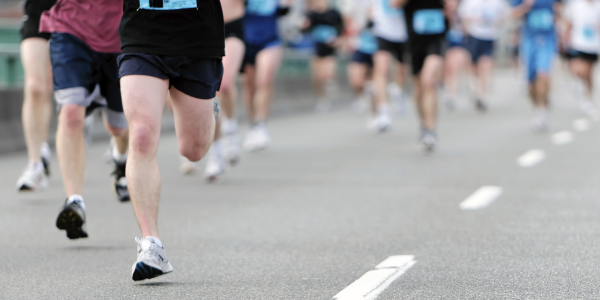 Knee pain is one of the most common complaints amongst physically active children and adults receiving treatment in sports medicine clinics. In fact, one study shows that 62% of all knee injuries are due to anterior knee pain in athletes of all ages. The most common joint problem is patellofemoral pain syndrome (PFPS) or more commonly known as "runner's knee." But does runner's knee affect only runners?
Runner's knee typically consists of pain originating from the kneecap region. The pain is most likely due to bone stress or lesions of the cartilage under the patella (kneecap). A usual factor for the emergence of runner's knee is compressive loading on the patella. This can cause the patella to depress onto the femoral condyles, resulting in contact pressure. Repeated exposure to patellofemoral pressure may result in overuse injuries.
It has been known that impact during running exercises is a primary factor in runner's knee. Compressive loading during running is measured at about seven times body weight but other activities that have both higher and lower compressive loads also correlate with PFPS. Jumping and squatting have high compressive loads while stair climbing measures at a mere three times body weight. All of these activities may contribute to knee pain and related symptoms.
However, though these exercises are different, they do share two common factors: knee joint angle and repetition overload. The degree of flexion of the knee joint is a contributing factor, among others, to the compression of the kneecap. Your quadriceps are required to maintain balance and constant conditions at the knee joint and anything that disrupts the balance may induce higher stress levels which might lead to injury. The knee is also vulnerable to reduced, seemingly innocuous compressive forces if they are extended over a long period of time. This is especially true when the knee joint must generate the majority of forces required during such compound lower body activities as stair climbing or elliptical exercise.
It is beneficial for any athlete to protect their knees during their activities and workouts. While focusing on your technique, take into consideration the degree at which your knee is bending. Also, try balancing the loading at your knee with your hip during lower body activities. Keeping this in mind during your workout may save you from runner's knee and other anterior knee pain. Be safe, and have a great work out!
For more on runner's knee, click here to for the complete article.
Paul M. Juris, Ed.D.
Executive Director, CYBEX Institute for Exercise Science

Dr. Juris earned his Doctorate in Motor Learning from Columbia University in 1993, followed by a variety of positions in higher education, rehabilitative medicine, professional sports, and fitness. Paul Juris, Ed.D. was named Executive Director of the CYBEX Institute for Exercise Science in January of 2007.