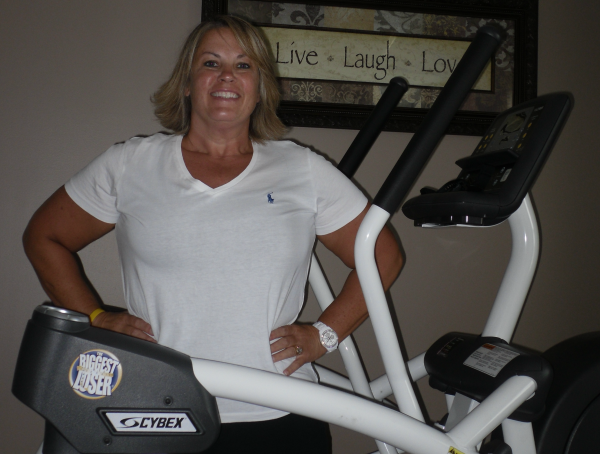 In early May, Diets in Review.com held a contest to win a Cybex Biggest Loser Arc Trainer. The contest entailed that applicants submit a picture of the room where they would put their very own Arc Trainer as well as a short description explaining why they deserve to win the grand prize. Cybex closely followed the submissions and were truly blown away by the contestants' humor, heart, and dedication to a healthy lifestyle. Even though all of the submissions were amazing, one in particular stuck out among others. Diets in Review.com announced 44 year old Andi Guthrie of Madisonville, Tennessee as the winner of the contest with a lively photo and a story that was both touching and motivational. Last week, Andi received her Biggest Loser Arc Trainer and has been the happiest Twitter user that the twittersphere has ever seen. Earlier this week, Cybex got in touch with Mrs. Guthrie to share her wonderful story for all of our fans and beyond.
Cybex: Hi Andi, How are you?
AG: I am great, feeling fantastic!
Cybex: How is your Arc Trainer?
AG: I love it, I love it. It's great!
Cybex: Can you say what was going through your mind when you won the Biggest Loser Arc Trainer?
AG: When I found out that I won, I screamed! I was hopping and skipping up and down the hallway at work. I was so happy and grateful. Actually, during my celebration, the Cybex senior VP called me to congratulate me. Winning this contest drastically changed my life for the better. I still can't believe it.
Cybex: When did you first encounter the Arc Trainer?
AG: I saw it in the gym that I was going to at the time. I was nervous about it at first. It looked really overwhelming, like I had no idea how to use it because it looked so different. My friend who is a personal trainer, his name is Demond Johnson, he was the one who pushed me to try it. My Knee Doctor also told me to try it as well, so I did. I had to drive 45 minutes one way to work out on the Arc Trainer because that was the nearest one so winning this contest changes a lot.
Cybex: What was your first workout like on the Arc Trainer? You mentioned that you were a bit timid about it. Did that change immediately or over time?
AG: Oh my first workout? I went completely "pedal to the metal". I got on it, set the Arc Trainer to the same settings that I had been doing on an elliptical, level 10. I tried working out on level 10 and it kicked my butt! It was a too much for me. So I asked one of the trainers to set it up for me and he put it on level 4 for 30 minutes and it still kicked my butt! After my first 30 minutes with it, I did my usual resistance workout and came back for another 15 minutes on it. I was hooked!
Cybex: What do you like most about the Arc Trainer?
AG: Well, I have severe osteoarthritis in both knees and my doctor told me that I need to have a total knee replacement in my left knee. He said he won't do a knee replacement until I am 50 and that I needed to stay active. I had already lost weight and he wanted to make sure I didn't stop exercising. The Arc Trainer does one thing that other machines can't do, it alleviates pain. The elliptical machines I had been using before put too much stress on my knees. I like the Arc Trainer more because it works my whole body and does not cause me any pain. It has given me my life back, a pain free life. I haven't had that in a long time.
Cybex: It seems as though you've fought through a lot of pain to stay healthy.
AG: Oh I'm a fighter. I have been a fighter my entire life. A lot of people don't know this but my life started as a fight. When I was 15 months old, I was diagnosed with encephalitis. The doctor had told my parents to prepare for a child that is mentally challenged if I made it through treatment. I proved them wrong. I was a competitive cheerleader in high school, then I went on to become a gymnast and graduated with high honors from college. There has been nothing holding me back. Even when I was diagnosed with cancer when I was 22 and later when I was 30, I have been fighting all my life and I'm not going to quit.
Cybex: Is there anything else you want to say to the people reading this?
AG: I want to thank Diets in Review and Cybex for this great opportunity. There are not enough words to say how blessed and gracious I am. I would like to thank my husband Eric who has been my rock and great support system since we were 17 and our children Andrew and Kayla. Without them I would not be who I am today. I've been to the moon and back. And to everyone else, don't be afraid to get on the Arc Trainer like I was. I can't stress that enough because it's really a life saver. Even just for 10 minutes, try it because you will get a great workout. It's well worth it.