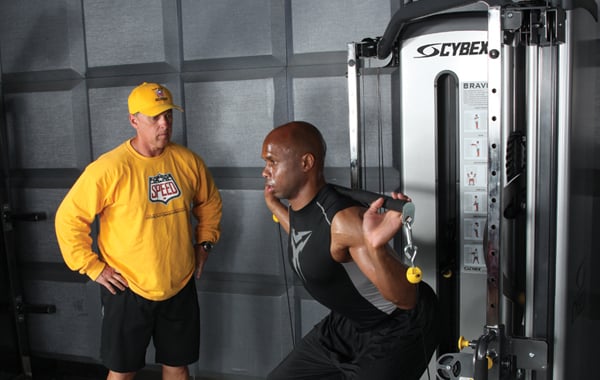 CYBEX International held its tenth UK seminar of the year at the start of July, as part of the programme which has been developed by the team at CYBEX's Institute for Exercise Science.
Held at the University of Liverpool, the seminar entitled 'Exercise Biomechanics and Machine Analysis' was attended by a number of CYBEX's clients. These included those from the education sector where representatives from various secondary schools, the University of Nottingham and the University Liverpool attended, corporate clients including members of staff from leading healthcare provider Nuffield Health and a number of the country's top strength and conditioning coaches working in professional sport.
Targeted at NVQ Level 2, 3 and 4 instructors, the seminar focused on teaching the attendees how load is applied to the human body and how this can then be tailored to ensure users achieve their desired results in the most functional and effective way possible when using selectorised machines.
Instructors are provided with a platform in which they can evaluate what equipment they use and how, something that is particularly significant with the recent trend towards the practise of functional training in exercise programmes.
The seminar was run by Julia Dalgleish, CYBEX master trainer, who runs a number of CYBEX courses throughout the year: "Here in the UK, CYBEX provides a comprehensive seminar programme that enables its customers to continue its professional development through REPs accredited training workshops that aim to extend their knowledge beyond the current UK Fitness Industry qualifications.
The seminar programme covers such diverse topics as exercise biomechanics, psychology of motivation, cables and functional training methods and performance nutrition. Each seminar has its foundations in science and research and focuses on translating the knowledge into appropriate practical application."
The seminar is part of CYBEX's 2011 programme which is made up of 25 REPs accredited courses run throughout the UK. Offered to existing CYBEX clients free of charge, each course holds between 25-40 attendees, and provides all those that attend with 4 REPs accredited CPD Points.
Developed by the CYBEX Institute for Exercise Science, the premise behind the seminar programme is to provide attendees with both academic information and practical demonstrations on topics that are often not included in the majority of fitness industry qualifications.
Based in the US, CYBEX's Institute for Exercise Science is the company's research arm and is responsible for investigating both new concepts and existing products to ensure that designs are optimised to deliver optimum training results. Offering training, education and programming, the Institute runs seminars in both the UK and US.
Alongside the scheduled seminar timetable, CYBEX also run training programmes onsite at the facilities of its clients, as well as offering bespoke training courses designed to meet a specific brief.
To register to attend one of CYBEX's seminars, please visit www.cybexeducation.co.uk, using the passcode CX12HYQ. For further information on the CYBEX Institute for Exercise Science, please visit www.cybexinstitute.com.