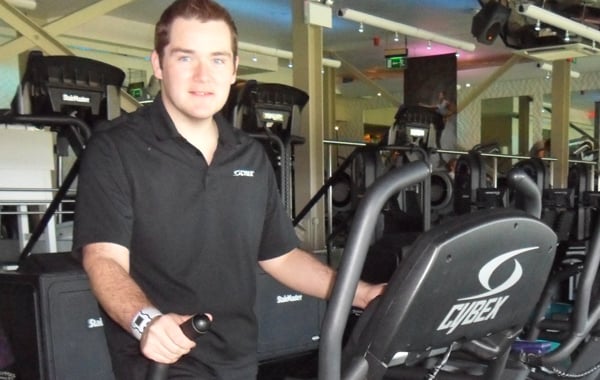 In an extension to the partnership between CYBEX International and its newest fitness ambassador Paddy Cunningham, this month has seen Paddy take ownership of his very own home Arc Trainer.
As runner up in the last series of the UK version of The Biggest Loser, Paddy lost 8 stone 8 pounds in the five months following the series finale, totalling 31.19% of his body weight. His significant weight loss and increased fitness levels were supported by the show's full range of CYBEX cardiovascular and strength training equipment, which CYBEX supplies to both the UK and US versions of the popular series.
Following his time on The Biggest Loser, Paddy contacted CYBEX regarding the possibility of owning his very own Arc Trainer, CYBEX's innovative non-elliptical training machine which has been scientifically proven to burn more calories than any of its rival pieces of equipment. It was from this that Paddy's role as a CYBEX ambassador developed.
Currently studying to become a REPs accredited Level 4 Personal Trainer, Paddy has already got a lot of use out of his home Arc: "Having the Arc Trainer at home has turned out to be more motivating than I first thought. As soon as I step on it I think back to my journey on the Biggest Loser, where I first used the Arc, and this really helps to keep me focused. My family have all had a go at using it – it's particularly good for my Mum and Dad as they can use it at their own pace and without the risk of exerting excess pressure on their muscles and joints. What I initially thought would be a great addition to my own exercise routine has really turned into a family affair!"
As part of Paddy's role as CYBEX ambassador, he will also be writing an exclusive CYBEX blog. Updated monthly, the blog will showcase Paddy's latest developments as he works towards becoming a qualified personal trainer, as well as details of his work with CYBEX. Click here to read his first post.
Paddy will also feature in July's edition of industry publication Work Out magazine, where he is discussing his role as CYBEX ambassador, as well as his experience as appearing as a contestant on The Biggest Loser, currently being repeated on Saturday mornings at 08:30 on ITV2.
For more information on how your facility and its users can benefit from working with CYBEX, please contact us at info@cybexintl.co.uk or 0845 606 0228. For more information on the Arc plus CYBEX's full range of equipment, please visit www.cybexintl.com.
For more information on CYBEX ambassador Paddy Cunningham, please visit www.ptpaddy.com.