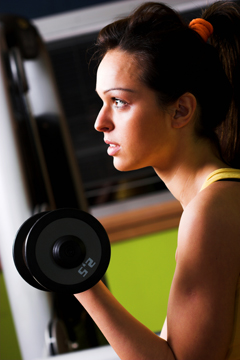 A position paper by the National Athletic Trainers' Association emphasizes that people who work out in communal settings (such as a gym) are at risk for skin infections and other infectious diseases. With our busy schedules, we try to get in and out of the gym as quickly as possible while getting a decent workout and often forgetting to sweat the details when it comes to avoiding germs that could lead to the common cold or a potentially dangerous infection such as antibiotic-resistant staph (MRSA).
Follow these 10 no-brainer tips from Brian B. Adams, MD, associate professor of dermatology at the University of Cincinnati, to minimize your risk:
1. Cover cuts with Band-Aids. This includes small breaks in the skin such as hangnails or dry, cracked skin.
2. Spray down machines--cardio and strength--even if they don't "look" sweaty. Most gyms have disinfectant available as points throughout the gym. Use it, says Adams. For best results, spray disinfectant directly on equipment, not on towels. And to make sure it kills the germs, let it sit on the surface for a couple of minutes before wiping it down with a clean cloth.
3. Never let your bare feet hit the floor--that includes showers, locker rooms, and pool decks, especially. "Always keep your sandals on," says Adams. "Make it so routine that when you forget to wear them it feels like you are driving without your seatbelt on."
4. Shower before you leave the gym. Wash feet last (including between your toes!), and dry well as bacteria and fungus thrive in moist, warm environments.
5. Bring a separate bag for sweaty, dirty gym clothes. Bacteria and fungus love sweat, they feed on it. When they're fat and happy, you're more likely to get sick. Or, at the least, they'll make your gym bag smell bad.
6. Interrogate the staff. Before signing up for a gym membership, ask how often they clean equipment and what type of products they use, and insist on seeing their cleaning schedule. If they can't show you one, most likely they're lax about it. Find a different facility.
7. BYO face towel to wipe your body's sweat. God knows how many hands (and floors) have touched the towels piled at the front desk or stashed in the corner.
8. Avoid touching your face or eyes with your hands after touching any communal surfaces like machines or equipment. Chances are, you are not the first one stepping on that Arc Trainer today…
9. Bring your own mat. Studies have shown that gym mats are among the dirtiest areas of the gym--even showing traces of fecal matter. Gross! Wash your mat once a week (most are machine washable) to knock out whatever germs it picked up from the gym floor.
For more tips on CYBEX equipment and beyond, check out our new video gallery!
Holly Aglialoro
Guest Blogger and Fitness Enthusiast