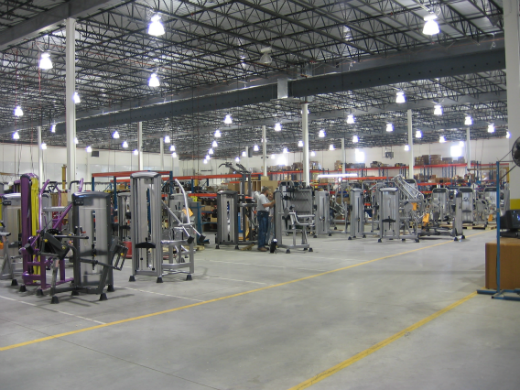 Being the producer of the world's finest fitness equipment, CYBEX prides itself on how it takes raw materials and intelligently assembles them to deliver that custom-made Arc Trainer to your local fitness center. Innovation is big part of CYBEX products and so their creation must as equally innovative as their execution. This is why we would like to share our work with you all in the first of a six-part blog series about the six pillars of CYBEX's manufacturing excellence. The first of which is our factory.
Below are the three main components that make our factory the leader in creating commercial fitness equipment.
Big and Modern
We start our journey with the cornerstone of our success, our factory. The monstrous CYBEX strength workshop runs on all cylinders in Owatonna, Minnesota. A truly world class operation residing on 34 acres of land and measuring at whopping 340,000 square feet, our facility is a mechanized monster. Don't think that's enough space? Big enough to house eight football fields under one roof, Owatonna is truly unrivaled among other commercial fitness manufacturers.
Vertical Integration
The Owatonna factory was designed and built from the ground up with the latest in lean manufacturing and vertical integration philosophies at the forefront of our minds. With state-of-the-art equipment and top-notch crew, raw materials enter the facility on one side and our customized premium strength equipment is finished and shipped on the other. Our dedication to vertical integration allows metal fabrication, welding, powder coating, and assembly to be done internally.
Built to Order
All of CYBEX's equipment can be completely customized to order. Anything from colors, logos and custom upholstery is completely accomplished per request by our customers. Days before shipment, production begins on our products. This is what has led to our fans delight with our record short lead times and on-time delivery.
To see our Owatonna Factory in action, check out our video gallery!