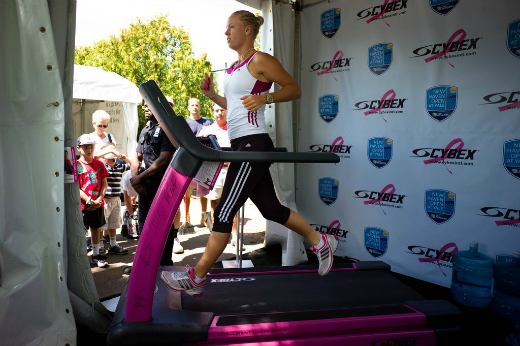 Last week, the New Haven Open at Yale opened its gates to thousands of tennis fans clamoring to see their favorite women's tennis players compete for one of the last titles leading up to the US Open. However, what they didn't expect to see was the CYBEX Pink Ribbon Run booth, raising money for the fight against breast cancer. How did they respond? Let's just say that it was the "run" and "talk" of the tournament.
The CYBEX Pink Ribbon Run was conveniently located by the food court, just outside of the tennis courts where the world class players competed for a seat in the finals. CYBEX invited all guests attending the tournament to walk or run on a CYBEX pink 750T treadmill. For every mile logged on the treadmill, CYBEX was donating 10 cents to the Susan G. Komen Foundation and the Smilow Cancer Hospital at Yale-New Haven. Additionally, attendees and business contributed cash donations to the cause if they were not dressed in their workout-best.
The professional women's tennis players also showed their support by running on the treadmill to raise funds to beat breast cancer. The #1 WTA ranked player in the world, Caroline Wozniacki, ran on the treadmill for a whopping 6 miles during the back end of the tournament. Other players that logging miles for the Pink Ribbon Run included, Li Na from China and France's Marion Bartoli. Even Wozniacki's boyfriend, PGA professional golfer and this year's US Open Champion Rory McIlroy ran a few miles to show his support. Media and fans flocked to the pink treadmill. And every athlete that participating in the event autographed the treadmill, which was auctioned off on charitybuzz.com.
With corporate sponsor First Niagara Bank and the WTA (Women's Tennis Association) also contributing to the CYBEX Pink Ribbon Run, more than $20,000 was raised and more than 200 miles logged in one week on the CYBEX pink treadmill!
CYBEX's wonderful partnership with the New Haven Open at Yale rallied participants, WTA players and crew, and of course the great tennis fans that ran aboard the Pink Ribbon Run. Even though this was a huge success, the New Haven Open at Yale was just the first step in the CYBEX Pink Ribbon Run Movement. For the 3rd year in a row, CYBEX will make a donation throughout the month of October for each mile logged on every new CYBEX pink treadmill purchased around the world. CYBEX will donate 10 cents for every mile to the Breast Cancer Research Foundation. We've done our part, now it is time for you to get on your local pink treadmill and run for the cure!
Photo courtesy of the New Haven Open at Yale