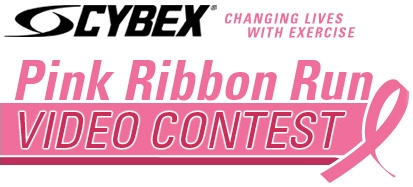 The 3rd Annual CYBEX Pink Ribbon Run kicks off early this year with a video contest, to inspire others to share stories about fighting and winning battles against deadly diseases such as breast cancer with exercise.
In honor of October's Pink Ribbon Run, CYBEX wants to hear how you, a friend or a loved one is reducing the risk of breast cancer. How are the benefits of exercise being utilized in fighting breast cancer? Did exercise aid in the recovery? What methods were used to stay motivated and/or motivate others?
We will be looking at each submission's ability to inspire, educate and motivate in their message. The contest winner will be awarded a 360A Home Arc Trainer, to continue taking daily steps toward prevention.
The fight against breast cancer is an important one, and one fought by many every day. It affects everyone. According to the American Cancer Society, one in every eight women will develop breast cancer in the United States. That's 12%. It is also the second leading cause of cancer death in women, next to lung cancer.
With these alarming statistics, CYBEX is committed more than ever to the cause – one we would like to inspire and educate others to take steps toward ending breast cancer through healthy living and exercise.