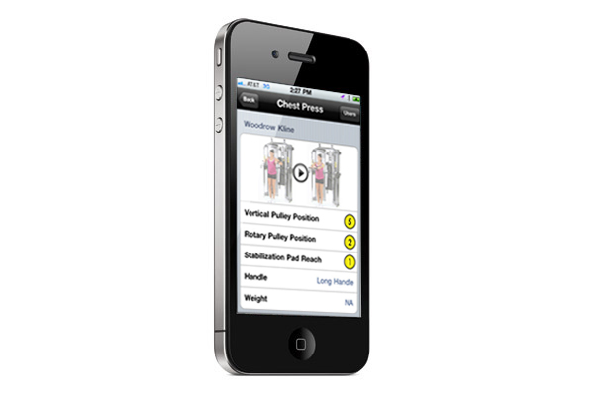 As a fitness professional, personal trainer, and facility operator for over 20 years, I have noticed that the fitness industry has been lagging behind in keeping up with today's culture. In particular, I am talking about the fitness club's lack of integration with modern technology. With the buzz around social media and smartphones, the fitness industry really needs to open their eyes and minds to these popular concepts that are a main aspect to their member's lives. This begs the question, however, "how can today's mobile world assist my member's most basic needs let alone my club's experience?" Recently, Cybex released a product that sheds a little bit of light on how this question can be answered.
About a week ago, Cybex asked me to review their new Bravo Workout Guide App for the iPhone and iPod Touch. They wanted me to test out the utility of their app for any and all uses because of my experience both as a trainer and my experience in the industry. So I downloaded the free app and started using it. I was pretty impressed with the simplicity of the design. All I needed to do was plug in my name and my height and then all of my custom adjustments were there for me to use on the Bravo. My initial thought at the time was that this was a much better instructional resource than any graphic on the side of a machine. From a trainer's perspective, this provides additional visual feedback to the client and can be used between sessions as an exercise execution reminder resource. That way, there is less of a learning curve and frustration for the client.
In another occasion, I found myself talking to one of my clients. He had mentioned that he needed a home gym but could not find one that was compact enough to fit his needs. I decided to show him the instructional videos on the Bravo Workout Guide with my iPhone and his eyes lit up. He was initially excited about the idea of instructional fitness videos detailed to your settings that fits in your pocket and then proceeded to take notice at all of the exercises capable on the Cybex Bravo. In a matter of a few minutes, he sold himself on buying a Bravo for his house. Capitalizing on the opportunity, I worked out an arrangement with him about scheduling training sessions with one of our trainers so he can get the most out of his new purchase. It was a win for everybody in the situation.
This app is just a small example of what the fitness industry is evolving into. With the leaps and bounds made in technology, fitness can become a personal, effective, and liberating experience for anyone from the athlete, the club owner, or a new father trying to shed some of that baby-weight. Regardless of the direction, it seems companies like Cybex are going to be the ones leading the charge not only with their equipment but with their innovation as well.
Marco Cosentino
Guest Blogger and Managing Partner at Bosse Sports