Should women run? This is a question that was recently posted on a popular internet sports conditioning forum. Citing a review article published in the journal Sports Medicine, and a vague reference to women's structural anatomy, the commentator questioned whether women should run. So, should they?
As with any other issue, the answer to this question depends largely upon one's perspective, and training goals. It has been suggested that women are injured more frequently because they have larger quadriceps angles (Q-angles) than men. Q-angle (pictured below) is formed by a vertical line bisecting the knee cap, and a diagonal line from the knee cap to the pelvis. As the degrees of a Q-angle increase, so does the potential for alignment problems between the kneecap and the underlying surface of the femur. Normal Q-angles for women are approximately 16 degrees (due to a wider pelvis), and 11 degrees for men.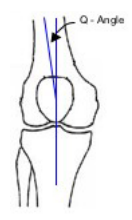 But does the average female Q-angle cause injury more than the male?
According to Messier and colleagues (2008), the answer is no. Their study examined injury mechanisms in runners with average Q-angles, and determined that Q-angle had no relationship with the associated risks of overuse injuries as most of them were localized more at the shin than the knee. The authors evaluated the possible contributing factors of injuries and cited age, smoking, flexibility and interestingly, overall physical condition. This leads one to question if this is truly is an issue of physical condition or gender.
The latter does not seem to be the case. A military study by Jones and colleagues (2000) examined injuries in military recruits going through basic training. The authors noticed a higher injury rate amongst female recruits. This was not due to the fact that they were women but that they were all in lesser physical condition than the male recruits. Coincidentally, a follow up study on female army recruits remarked that the key factor in training injuries was also their fitness level.
The truth is that women with average Q-angles (around 16 degrees) suffer no more knee injuries than men. However, women with Q-angles in excess of 20 degrees may have higher tendencies towards overuse injuries. But the real issue here resides in one's physical readiness to run. There is no reason a woman should be discouraged from entering a running program, provided that the stresses are on par with their level of readiness. Effective planning and management of frequency, duration, and intensity will improve fitness while limiting the potential for overuse.
To read the full Truth on Fitness article, click here.
Dr. Juris earned his Doctorate in Motor Learning from Columbia University in 1993, followed by a variety of positions in higher education, rehabilitative medicine, professional sports, and fitness. Paul Juris, Ed.D. was named Executive Director of the Cybex Research Institute in January of 2007.