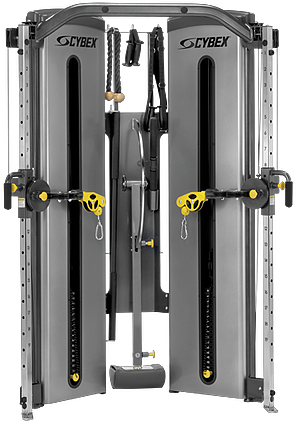 So you think you've managed to master all of the Cybex Bravo functional trainer's adjustments to serve your routine workout? Think again. We've compiled three simple tips that will help you delve deeper into the capabilities and functionality of the ultimate functional trainer.
1) Remember that when you are using cables, the line of force is clearly represented by the cable itself. For most upper body exercises, aligning your forearm to the cable will mean that you have the proper line of force resisting your movement. Having a proper line of force is monumental to achieving an optimal workout.
2) Many upper body exercises begin with the cables set at approximately shoulder height. Your reference point should be where the yellow stopper protrudes from the pulley, not the top of the unit or at handle height.
3) When Progressive Stabilization is at any position other than horizontal, extending the pad in or out will allow you to make micro-adjustments in between each of the main height stops. This can be useful in positioning the pad to a precise location for your exercise of choice.
Be safe and have a great workout.

Ben Wilde
Vice President, International Education and Training