Increased four mile fitness time following an eight week Arc Trainer based program
An eight week training program involving the Cybex Arc Trainer and light strength training resulted in increased overall running fitness, despite no running during this time. In addition, the subject reported less pain in the Achilles tendon, suggesting that the Arc Trainer provided a valuable alternative to running while recovering from a lower extremity injury. The Arc Trainer can potentially be a valuable addition to any training regimen, especially those whose training is limited due to injury.
Author
Scott Moody
AthleteFIT
Overland Park, KS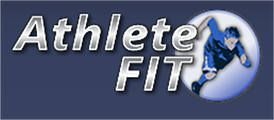 Introduction
At some point, runners and/or team sport athletes will likely be forced to take time off from their normal running routines. Injuries or changes in schedule often have negative effects on both motivation to train and running performance. There appears to be a lack of information regarding programs that focus on maintaining or improving fitness levels during these periods of reduced running, or during periods where mild overuse injuries might cause a runner to discontinue their normal running program.
The aim of this study was to assess the effectiveness of a circuit style program using the Cybex Arc Trainer and dumbbells, designed to challenge lower body power, muscular endurance, and cardiovascular endurance of a subject who eliminated all running based activities during an eight week period.
Background
The subject of this case study is a thirty seven year old male and a recreationally active soccer fitness coach who trains alongside his athletes in both strength and cardiovascular endurance exercises year round. The subject made a decision to discontinue all running activity based on changes in work schedule and extreme afternoon heat, which made training difficult, as well as some discomfort in his Achilles tendon, which he attributed to overuse. One week prior to his decision to discontinue his running program, the subject had run a personal best in a 4-mile interval test (see appendix).
Procedure
Two of the four workouts during this 8-week study were circuit style workouts, which combined the Cybex Arc Trainer with light dumbbell activities that targeted the total body (upper body, lower body, and core). Dumbbell exercise selection varied from day to day, but revolved around 5 minute blocks of 30 seconds on 30 seconds off, targeting total body movements such as: squat to press, squat to upright row and bent over row type motions along with medicine ball throws, and core work using a TRX System (Fitness Anywhere LLC; San Francisco, CA). Upon completing a 5-minute block of metabolic strength activities, the subject would perform a 5-minute block of Arc Trainer Interval work. These varied week to week and were structured as one of three styles: (1) a 5 minute steady state block, (2) intervals of 2 minutes on to 1 minute off, and (3) intervals of 1 minute on to 1 minute off. During the intervals, the aim was to maintain strides per minute (SPM) and resistance as high as sustainable for the entire duration.

The other two days of the week consisted of a longer, aerobic based endurance workout on the Arc Trainer (9 minutes on to 1 minute off x 4) and a leg press drop-set and jump squat workout that lasted between 20-25 minutes. More details related to the training program can be seen in the appendix.

The four mile fitness tests were performed on a non-motorized Woodway Curve Treadmill (Woodway USA; Waukesha, WI) to allow the subject to change his cadence without any manual input. This also allowed the subject's pace to be self-selected and variable throughout the task. Speed and time were collected using a software program (World Wide Software Solutions; Milwaukee, WI) that was attached to the treadmill. Heart rate information was collected using a Polar Team 2 System (Polar; Kempele, Finland).

Table 1. Organization of a typical week in this training program


Table 2. Changes made to previous programDB Dumbbell, SR Squat to Row, SP Squat Press, MBL Medicine ball lunge to chess pass, BR Bent row, MBS Medicine ball scoop toss, PU/BP Pushup or Bench Press, 2:1 indicates 2 minutes on to 1 minute off intervals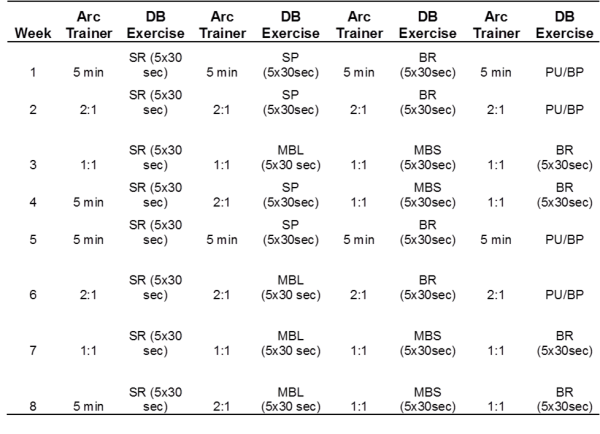 Results
During the eight week cross training phase, the subject improved his performance in the 4 mile interval time by 3.10%, a decrease of over a minute (Table 1). His max speed and average speed during this interval also improved by 3.74% and 3.71%, respectively.

Table 3. Four mile interval test results before and after training program

Not only did the subject improve his performance in the speed and pacing aspects of the run, but he also exhibited a 3.20% decrease in maximum heart rate following the training program, which is significant considering his increase in performance (Figure 1).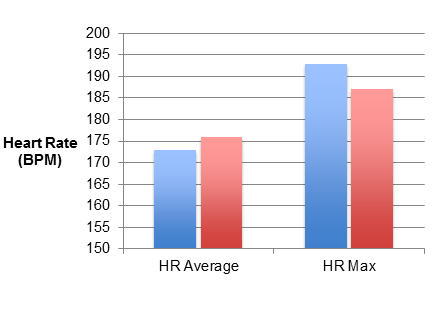 Figure 1. Average and maximum heart rate (HR) in beats per minute before (blue) and after (red) for the 4 mile interval test.
Discussion
One possible explanation for the elevation in average heart rate could be due to the subject's ability to push harder through the running intervals of the workout (running at a faster cadence). The Cybex Arc Trainer has shown to provide a lower perceived rate of exertion when compared to an elliptical (Turner et al. 2008), and also allows the user to train for longer periods of time at higher heart rates (Moody 2009). This combination could have helped the subject develop a tolerance to train at higher levels, which ultimately may have transferred over to running performance, resulting in his ability to work at a higher level for longer periods of time.
The fact that the subject's max heart rate was lower in the post test, even though he was able to work at a much higher rate, suggests that the training program enabled the subject to work at a high intensity without as much cardiovascular exertion. This could be attributed to a possible increase in stride efficiency or power.
Using the Arc Trainer to challenge the subject's ability to sustain powerful strides over one, two, five and nine minute bouts during periods of reduced running may be an excellent way to improve endurance, cadence, maximum speed, and cardiovascular endurance.
At the start of the study, the subject had been experiencing discomfort in his Achilles tendon, and originally it was this irritation, combined with the change in schedule that forced him into a cross training program. During the program the subject felt no discomfort and was able to push hard through each workout. Upon returning to a running program, the subject felt no discomfort in the Achilles tendon and has since returned to his normal three to four day per week running program.
The improvements observed in this study suggest that the Arc Trainer may be a valuable cross training option for runners and team sport athletes that require repeated sprinting, running, jogging and walking bouts over a long period of time. Perhaps more importantly, this case study shows that the Arc Trainer can be an effective way to improve physical fitness while rehabilitating a lower extremity injury. The Arc Trainer might also be an option for those runners who may have lost the motivation to train due to chronic discomfort in the lower extremities.
References
Turner, M., Williams, A., Williford, A., & Cordova, M. (2008, March 27). A comparison of the physiological response and pain perception between two mechanically differentiated cross trainers. Retrieved from www.cybexinstitute.com
Moody, S. (2009, April 2). Use of a cardio work index to determine the effectiveness of high intensity interval exercise on three lower body machines. Retrieved from www.cybexinstitute.com
Appendix
The 4 Mile Interval Test is comprised of 2 800m runs, 4 400m runs, 6 200m runs and 8 100 meter sprints. This workout encompasses the complete spectrum of speed with phases of walking, jogging (between 25%-50% of max speed), running (between 50%-70% of max speed), strong running (between 70%-80% of max speed) and sprinting (between 80%-100% of max speed).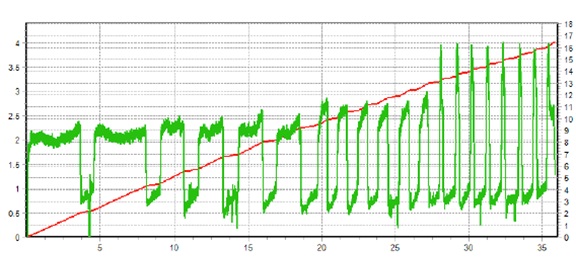 Figure 2. Four mile interval test results before (top) and after (bottom) training program. The cadence curves are very similar in these two workouts, but the ability to sprint at faster speeds in the final eight 100m sprints and the ability to walk at faster paces during the walking recovery between intervals sets these two programs apart.

Figure 3. Sample heart rate graph of the 4 mile interval run (post test).
---
Cybex is a provider and manufacturer of premium commercial fitness equipment. Content featured in the Cybex Fitness Blog is meant to inspire healthy living and wellness and should not be taken as medical advice. As always, be sure to consult a physician if you are unsure of your individual exercise readiness or have a preexisting medical condition. While these programs offer great benefits, there are many considerations that should be weighed before attempting any type of physical activity.