The effects of a Cybex Arc Trainer power and endurance training program on perceived knee pain and first-time marathon performance
A subject was able to reduce knee pain during the last five weeks of a marathon training program by replacing one running day with an Arc Trainer workout. The Arc Trainer may be a good option to maintain cardiovascular fitness during periods of reduced running due to injury.
Author
Scott Moody
AthleteFIT
Overland Park, KS
Introduction
Patellofemoral Pain Syndrome (PFPS), or pain associated with the knee joint during lower limb loading activities, can be quite common in runners, as approximately 2.5 million runners are diagnosed with knee pain each year (Davis and Powers 2010). The repeated stress of road running programs, especially marathon training programs designed to steadily increase running volume to prepare for the 26.2 mile run, can sometimes shock the unprepared runner.
With many first time marathon runners, knee pain begins to set in with early increases in running volume, along with reductions in the recovery periods between training runs. For some, this may be debilitating enough to prevent them from training adequately for their events, or even to force them to miss their event entirely. As a result, alternative methods of training in which there is less stress on the musculoskeletal system become desirable.
In previous studies with recreationally active men, training protocols involving the Cybex Arc Trainer have resulted in improvements in functional power (Moody 2009), muscular endurance, and cardiovascular endurance (Moody 2008). In addition, recent research suggests that the Arc Trainer also reduced compressive loading at the patellofemoral joint compared to other non-impact cardio devices (Kernozek 2012). Given this information, the Arc Trainer might be an excellent cross training option for runners with PFPS.
The purpose of this study was to determine the effects that substituting one day of road running with one day of cross training on the Cybex Arc Trainer. This study took place over the final five weeks of a marathon training plan, and desired to analyze the effects of the Arc Trainer protocol on perceived patellofemoral pain and marathon performance in a first time marathoner. Most marathon training programs schedule one day per week as the long run day, with this run progressively increasing from about 12 miles to about 20 miles as the race approaches. The Arc Trainer day replaced the 'long run' day of the marathon training, as this was causing the subject the most discomfort.
Background
A 41-year-old male, training for his first marathon, began experiencing knee pain during his training sessions. The 5 foot 11 inch, 141-pound soccer coach, was recreationally active and had run in high school, and currently runs as part of soccer conditioning sessions with his team. He had also run two half-marathons (in 1:35 and 1:48), but had never attempted a full marathon.
While training for the race, the subject began to experience patellofemoral pain as running volume was increased above thirty miles per week. The knee pain steadily increased for several weeks, and by five weeks prior to the race had reached a 6 on a 1-10 scale of perceived pain. By this time, the subject was no longer able to finish his training runs. The subject was looking for a training option that would reduce the stress on his knee during the long runs, while still allowing him to train for the race. Strength training was given consideration, as it might help to reduce his patellofemoral pain. Prior to this marathon training, however, the subject had never consistently implemented any type of strength training into his weekly workouts.
After discussing potential training options with the subject, it was decided that due to the time sensitive nature of his program and his lack of strength training experience, the learning curve of new exercises and the loss of a cardiovascular training day did not seem to be the most efficient use of his time. Focusing on strength alone just five weeks prior to the race, therefore, might not be the best option. This is what led to the Arc Trainer protocol, outlined below in greater detail.
Procedures
Due to the subject's limited training availability, and the aerobic nature of marathon training, a modified version of the protocols in previous studies (Moody 2008, Moody 2009) was developed, involving a three minute on to one minute off ratio, where the subject would fix resistance at a tolerable level and increase the pace, given his concerns that the protocol be most appropriate for marathon training.
During the first session, the subject started with a ten minute warm-up where he manually adjusted the resistance and elevation in search of a challenging, but tolerable setting. Keeping his cadence approximately 120 strides per minute (SPM), he settled on a resistance of 25% and an incline of 6, and performed three minutes of work followed by a one minute rest period at about 50 SPM (Figure 1).
He then continued with another interval of three minutes, but this time increased the resistance to 30% at 120 SPM, followed by another one-minute rest at 50 SPM. He continued this pattern for 20 minutes and finished with a five minute cool down between 100 and 120 SPM at a resistance of 25%.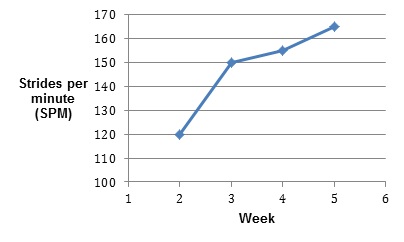 Figure 1. Pace over the training protocol on the Arc Trainer. Resistance was held constant at 30%. The race was at the end of Week 6.
On week 2, he performed a shorter warm-up of five minutes, as he had a better feel for the adjustments of load and incline that he might tolerate. He started his first working set at a resistance of 30% and performed 7 intervals of three minutes on to one minute off. Deciding that he could tolerate more speed, he increased his cadence to 150 SPM.
The following week the subject warmed up and cooled down for five minutes with similar settings as in the previous two weeks, but he reduced the number of intervals to five because he was beginning to taper for the race. He still started with the resistance at 30% but by now, it was easier to maintain a higher cadence, so he remained between 150 and 160 SPM during the working phase of each set.
His final session on the Arc Trainer was the week of the marathon, so while he kept the same warm-up and cool down, he completed only three intervals. During these intervals he was able to sustain a stride rate between 160 and 170 SPM. He finished with some fast strides at a resistance of 25% and 170+ SPM.
During the month prior to the marathon the subject performed some soft tissue manual massage on the vastus medialis muscle using a foam-roller device. He also iced his knee for 10 minutes, three times per day, during the four weeks leading up to the race.
Results
The subject completed the marathon in a time of 3:48 and ranked 24 out of 106 in his age group. He reported no pain in his knee during the marathon. A week-by-week graph of the subject's perceived pain is displayed in the figure 2.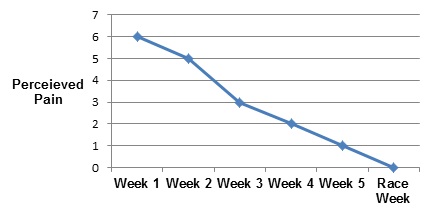 Figure 2. Changes in perceived pain during the five-week training period.
The subject commented that he felt strong during the run, right up to the last six miles, which he attributed to inexperience in running distances of this degree, and not to an increase in knee pain.
Discussion
This study indicates that a runner with patellofemoral symptoms was able to perform at what he considered his best effort, while reducing knee pain over a five-week period, by substituting an Arc Trainer protocol for one day of running.
It appears that the Arc Trainer program allowed to subject to maintain an appropriate level of fitness while removing one day of running from the training protocol. It should be noted that it is likely that the subject's fatigue during the last six miles of the race may be due to the fact that the long run was removed from the original marathon training plan. What this case study shows, however, is that the subject was able to maintain an adequate level of fitness and fully recover from significant knee pain leading up to the marathon.
Although this study did not focus on the strengthening benefits of the Arc Trainer, previous studies have shown that it is possible that the Arc Trainer can provide the necessary strength component to complement endurance training for distance runners.
References
Davis IS, & Powers C (2010). Patellofemoral pain syndrome supplement consensus statement. Journal of Orthopaedic & Sports Physical Therapy, 40(3), A3-A9.
Moody S (2008). The effects of high-intensity training on the Cybex Arc trainer on muscular endurance and work capacity. Retrieved from http://www.cybexinstitute.com/research.aspx
Moody S (2009). The effects of high-intensity training on the Cybex Arc trainer on functional capacity in moderately fit adult men. Retrieved from http://www.cybexinstitute.com/research.aspx
Kernozek T (2012). Patellofemoral joint forces between two non-impact cardio devices. Retrieved from http://www.cybexinstitute.com/research.aspx
---
Cybex is a provider and manufacturer of premium commercial fitness equipment. Content featured in the Cybex Fitness Blog is meant to inspire healthy living and wellness and should not be taken as medical advice. As always, be sure to consult a physician if you are unsure of your individual exercise readiness or have a preexisting medical condition. While these programs offer great benefits, there are many considerations that should be weighed before attempting any type of physical activity.