The effects of an eight-week training program using the Cybex Arc Trainer on maximum sprinting speed of an elite female soccer player
A female high school soccer player experienced an increase in maximum back squat and top speed after utilizing the Arc Trainer in an eight week power training program.
Author
Scott Moody
AthleteFIT
Overland Park, KS
Introduction
Speed training programs are typically associated with plyometric activities, sprint mechanics exercises and weightlifting programs designed to develop maximum power. Some athletes, however, may require a lower impact training option due to injury or a competitive practice schedule. Cardio cross trainers can provide this lower impact training option, but are not typically associated with improved performance in speed and power. One cardio cross training product, however, has characteristics that may contribute to power gains and therefore may also contribute to gains in acceleration and maximum sprint speed.
The Cybex 750A Arc Trainer is a lower body cardio device that enables users to generate power up to 900 watts. Since higher power correlates with increased rate of tension development and power is a contributing factor to speed development, it is possible that training on the Arc Trainer at elevated power levels may result in improved sprint performance. In this case study, a subject's normal strength and plyometric training program was replaced with a power training regimen on the Cybex Arc Trainer to determine if it would improve her maximum sprint speed.
Background
The subject is a 17 year-old, elite level, female soccer player. Over the last few years she has participated in a year-round training program consisting of two team practice sessions per week combined with two athletic performance (speed, strength and conditioning) sessions per week, while also playing games approximately two weekends per month.
Over an 8-month period prior to the study, the subject had noticed a leveling off in her maximum sprint speed as well as in her back squat one repetition maximum (1RM).
During the fall season, she also suffered a rib injury when she collided with another player. This injury did not result in any lost training time in practice or games, but was affecting her strength training sessions by limiting her ability to train with heavy loads. Her back squat 1RM, therefore, increased only five pounds during the fall.
Because of fairly drastic changes in outdoor temperature and field conditions during winter season, the subject conducted speed and conditioning interval workouts on a non-motorized treadmill. The subject was only noticing small incremental improvements in running speed and was becoming frustrated with her apparent lack of progress in speed performance.
The strength and injury factors, as well as a noticeable plateau in her speed testing, contributed to her search for a lower impact form of training that could also improve her speed and power. The subject had used the Cybex 750 Arc Trainer as a conditioning alternative in previous workouts, and was familiar with its capabilities. She had a good understanding of how to manipulate speed and resistance in order to modify power during exercise sessions, and opted to replace her normal lower body strength training routine with a 25- to 30- minute power program on the Arc Trainer.
Procedure
Data collected from the subject's previous testing sessions over the eight month time frame leading up to the study was used as a baseline to compare this intervention phase against her normal rate of development in strength and maximal sprint speed. The subject's 1RM Back Squat was improving at a rate just less than two pounds per month, going from a 1RM of 160 pounds in March to a 1RM of 175 pounds in late October.
Her maximum sprint speed increased from 16.6 mph to just 16.8 mph over the eight month period leading up to the study. Both of these measures were below the subject's normal rate of development for her first two years in the program, as well as below the training program standards for athletes in her age group, implying that the subject had hit a plateau in her strength and speed performance.
The Arc Trainer protocol consisted of two weekly power sessions over an eight week period, for a total of 14 training sessions (the subject missed 2 sessions due to holiday travel). The exercise intervention was divided into two phases and structured as follows:
Phase 1: November, see table 1.
Day 1: The subject used the first training day of the week to complete an interval style workout consisting of seven to eight bouts of two to three minutes of work followed by one minute of rest. Exercise cadence was fixed at 140 strides per minute and resistance was increased after each two- to three- minute bout.
If she was unable to maintain the required cadence for the full three minutes, resistance was decreased. During this phase the subject completed four workouts of this style and increased her resistance to 55% by the end of week four.
Day 2: the subject performed fifteen intervals of 60 seconds work to 60 seconds rest during a 30-minute workout. The objective was to increase the resistance every working minute as long as she was able to maintain a cadence of 120 strides per minute for the entire minute. Resistance was increased from 85% on the first week to 95% by the end of week three.
Table 1. Arc Trainer Speed Protocol and Practice / Game Schedule for Phase 1

Phase 2: December, see table 2.
Day 1: The subject completed two sets of five power intervals (repetitions), adhering to a twenty to thirty seconds work followed by a ninety to one hundred seconds rest format. Exercise cadence was fixed at 170 strides per minute, and resistance was increased after each interval, thereby increasing power, as fatigue allowed. If she was unable to maintain the required cadence for the full twenty to thirty seconds, resistance and power were decreased. Five intervals per set were performed during each set. Five minutes of active recovery were taken between sets.
Day 2: The subject alternated week to week between the two interval workouts from Phase 1 which consisted of a three-minute on and one-minute off interval sequence, for 24 minutes or a one-minute on and one-minute off interval sequence, for 20 minutes.
The duration of these workouts was reduced slightly in this phase due to an increase in her practice and game schedule, but the intensity in terms of resistance settings on the final interval were the same as in Phase 1. During the one-minute on and one-minute off program, her initial resistance setting was 50% and progressed to 100% by the last interval.
Table 2. Arc Trainer Speed Protocol and Practice / Game Schedule for Phase 2

Normal strength training sessions for her team consisted of back squats, weighted box step ups, Romanian deadlifts, cleans from a hang position, and a variety of dumbbell exercises and complexes which included bent over rows, pulling and snatching motions, and overhead pressing. The subject participated in her normal team practice and strength training sessions, but chose to replace the squatting, step up exercises, Romanian deadlifts and cleans with her Arc Trainer protocol.
Results
Over an eight month period prior to the study, the subject had noticed a leveling off in her back squat one repetition maximum (1RM). She was able to maintain a 1RM of 160 pounds during the spring (high school season), and noticed a ten pound improvement over the summer season, but due to a rib injury that limited her ability to lift heavier loads, her 1RM leveled off to 175 pounds during the fall season.
The subject's maximum back squat improved from 175 pounds to 185 pounds (a 5.71% increase) during the eight week study phase (Figure 1). She experienced no soreness in her ribs or back during, or following, the return to lifting. During this phase of training, the subject improved at a rate of five pounds per month, which was well above the rate of 1.875 pounds per month observed in the eight months prior to the study.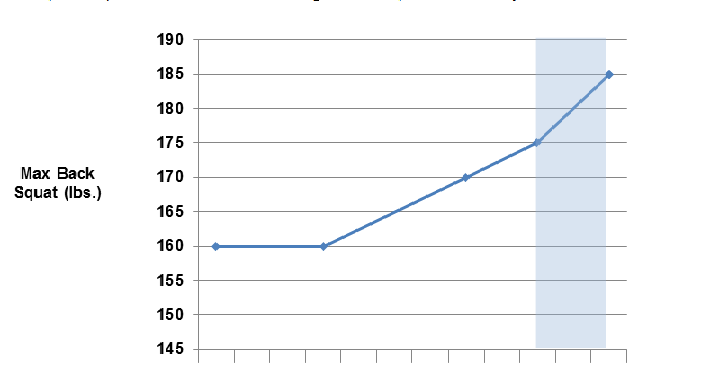 Figure 1. Changes in Back Squat 1RM (lbs.) over one year (shaded area represents this study's 8 week protocol)
The subject started to notice a leveling off in her maximum sprinting speed during testing sessions two months, six months and eight months prior to this study. Her speed had only increased by 0.2 miles per hour, from 16.6 mph to 16.8 mph.
Over the eight-week study period, the subject's maximum sprinting speed increased from 16.8 miles per hour to 17.2 miles per hour (Figure 2).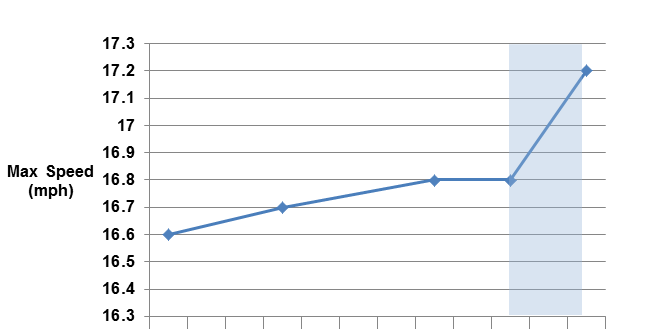 Figure 2. Changes in maximum running speed over a 10 month period (shaded area represents this study's 8 week protocol)
Discussion:
The subject entered the program looking for a lower impact alternative that might result in maintenance of strength and maximum sprint performance, while reducing her pain level as she prepared for the upcoming season.
Instead, she experienced an increase in both maximum speed and lower body strength without any coincidental or subsequent rib or knee discomfort. She further commented that she felt stronger during the games, and did not get knocked off the ball, while also feeling stronger in decelerations and sudden stops. Her coach noticed that during her games she was able to play at a high level over the full 90 minutes without noticing a decrease in speed. She looked stronger in her runs and needed less recovery time between runs. The subject also stated that she was able to sprint for longer bouts at a faster pace during games without getting fatigued.
However she did comment that she felt her ability to run at a continuous pace for long periods of time might have slightly decreased, but she attributed that to a lack of training in a steady state, aerobic environment.
These results suggest that the Cybex 750A Arc Trainer can be used as an effective speed and strength building tool, especially for individuals seeking a lower impact form of speed and power training.
---
Cybex is a provider and manufacturer of premium commercial fitness equipment. Content featured in the Cybex Fitness Blog is meant to inspire healthy living and wellness and should not be taken as medical advice. As always, be sure to consult a physician if you are unsure of your individual exercise readiness or have a preexisting medical condition. While these programs offer great benefits, there are many considerations that should be weighed before attempting any type of physical activity.