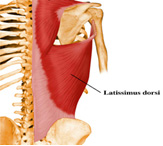 Ken je de uitdrukking "een wijde greep voor een brede rug"? Welnu, als je de wijde greep optie toepast op Laterale Pull-downs of Chin-ups , creëer je inderdaad een lange hefboom (moment, gedefinieerd als de loodrechte afstand tussen het draaipunt, je gewricht, en de last, je greep op gewicht/halter/kabel). Deze brede greep is mechanisch gesproken nadelig zodat de oefening zwaarder aanvoelt, maar hebben zij die deze optie propageren wel eens stilgestaan bij de Omvang van Beweging (OVB)? De OVB bij deze optie wordt in feite korter, hetgeen inhoudt dat je spieren hard werken, maar slechts over een kleine afstand.
Zoals velen van jullie weten, is krachttraining in principe spier-gewricht specifiek – hetgeen inhoudt dat je geen resultaat behaalt als je niet in de OVB traint. Dus waarom niet een zwaardere last gebruiken dan je normaal gesproken voor je laterale pull-downs zou doen, maar tegelijkertijd ook een minder wijde greep waardoor je OVB toeneemt?
Of beter nog, gebruik een machine die uiteenlopende bewegingspatronen oefent – dit betekent simpelweg dat je handen gedurende de oefening van elkaar af bewegen, waardoor de OVB bij de schouders groter wordt en daardoor op hun beurt ook de laterale rugspieren met een betere OVB worden getraind. Probeer het maar eens uit voor gerichtere training van de latissimus dorsi.....
Ben Wilde
Internationaal Directeur Training en Opleiding