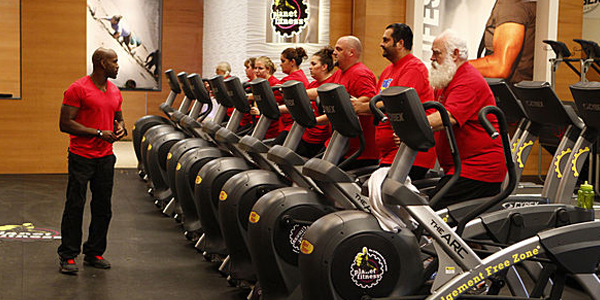 CYBEX International is the official fitness equipment supplier for the latest series of ITV1's hit TV show The Biggest Loser.
For the second series running, CYBEX has provided a range of strength and cardiovascular equipment to the show, including 750C upright and 750R recumbent bikes, 625T treadmills, Bravo functional trainers and a number of 750AT total body Arc Trainers.
The agreement, which is an extension to CYBEX's partnership with the US version of the show, will see the equipment used each week as part of the stringent exercise programme followed by the contestants, set by fitness experts Richard Callender, Charlotte Ord and Rob Edmond.
CYBEX's involvement in the new series of the popular TV show follows on from the success of the last series, which saw runner up Paddy Cunningham named a CYBEX ambassador. In his role, Paddy has represented CYBEX at a number of industry events, whilst also writing a monthly blog on his progress since leaving The Biggest Loser. This has included completing his level four advanced personal training qualification.
Attributing his significant weight loss in part to the innovative nature and superior quality of the CYBEX equipment, Paddy also owns his own home Arc Trainer and regularly blogs about his activity on the Arc.
This year's series will see contestants ranging from 15st up to 32st 2lbs, who will all be battling it out to lose the highest percentage of body weight and win £25,000 plus the title of this year's Biggest Loser.
Aaron Kidd, senior producer for the Biggest Loser said: "CYBEX equipment is held in high regard by the contestants and trainers alike. CYBEX has helped shed the pounds off of countless contestants over the past few series' of the Biggest Loser and we're pleased to have CYBEX back in our gym to help ensure this year the contestants do even better than before".
Rob Thurston, commercial director for CYBEX UK is delighted to see a full range of CYBEX equipment back in use on the Biggest Loser: "Following on from the success of the last series, we were pleased to be able to re-engage with the show again. Previous successes on the show prove that our equipment supports the contestants with their weight loss targets and we're looking forward to seeing the impact that the work out programmes will have on this year's participants".
The Biggest Loser is on ITV1 every Tuesday at 9:00pm.
For more information on the show, please click here.
To view Paddy Cunningham's latest blog entry, please click here to be taken to the CYBEX Fitness Blog.