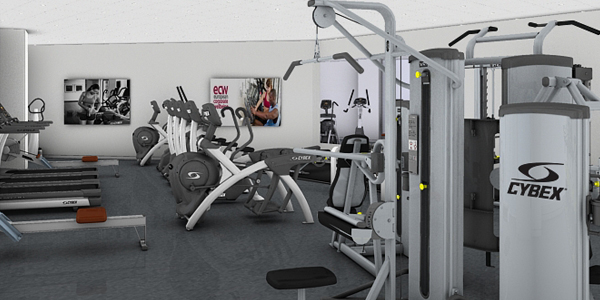 As the latest addition to CYBEX UK's growing portfolio of industry-leading corporate clients, the team has recently completed an install at the Salford Quays office for the British United Provident Association (BUPA).
The agreement saw CYBEX install a range of premium cardiovascular equipment including three 625T treadmills, two 750AT total body Arc Trainers and a 530S stepper.
In addition to the cardio equipment, BUPA also ordered a range of equipment from CYBEX's VR1 strength line including a chest press, overhead press, leg press and lat pull down. Ideal for facilities with limited floor space, each VR1 machine has been designed to combine all of the capabilities that users look for in strength training, but with a smaller footprint.
The refurbished gym also houses a CYBEX plate loaded smith press, adjustable benches and a Bravo functional trainer, CYBEX's leading cable-based strength training machine.
The renovation of the gym, which will service 1950 staff at Salford Quays, is part of BUPA's vision to create a 'community feel' amongst its UK sites. As part of this strategy, employees at the Salford Quays office have also recently benefited from other refurbishments to include new in-house catering facilities.
The decision to choose CYBEX was made in partnership with European Corporate Wellbeing (ECW), an organisation which specialises in the design and management of fitness and wellbeing facilities throughout the UK, Republic of Ireland and Europe.
Commenting on the decision to work with CYBEX, Carly Timmins, site manager for BUPA Salford Quays , said: "Having worked closely with European Corporate Wellbeing, we chose to engage with CYBEX because of the excellent quality and durability of its equipment. We reviewed a number of suppliers and found that CYBEX equipment was designed specifically with the requirements of the user and their biomechanics in mind, therefore truly maximising fitness training and performance for our facility members."
Alan Ellis, key account director for CYBEX UK, has worked closely with ECW and BUPA to deliver to a facility specification that caters to the wide-ranging needs of BUPA's employees: "As one of the world's leading healthcare providers, it is essential that BUPA also supports the health and wellbeing of its staff as well as its customers.
"Choosing CYBEX to equip the gym at one of its largest UK offices is testament to the industry-led recognition of the quality and durability of CYBEX equipment, whilst also proving that our equipment ranges can deliver to performance criteria for all users and abilities."