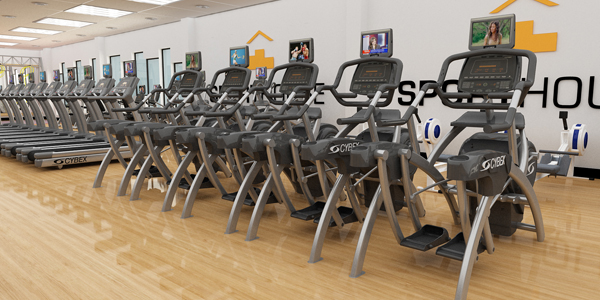 The official launch of SportHouse - CYBEX's new UK showcase site – is taking place at the end of March and will be attended by five-time Olympic gold medal winner Sir Steve Redgrave CBE.
Also in attendance will be member of the International Olympic Committee and ex-resident of Barking and Dagenham, Sam Ramsamy, Member of Parliament for Barking Rt. Hon Margaret Hodge MP as well as SportHouse CEO and owner, Mike Stimson.
CYBEX UK's commercial director, Rob Thurston, was integral to signing the agreement with SportHouse and will attend the launch alongside John Young, senior vice president, international sales, for CYBEX International.
As part of the launch, Sir Steve Redgrave will be opening one of the two gymnasiums, installed in full by CYBEX, as well as giving a short presentation on the role of SportHouse in facilitating community engagement and wider inclusion in sport.
The gym installation, which was completed earlier on this month, saw over 250 pieces of CYBEX equipment installed throughout the two floors. This included 75 pieces of cardio equipment, made up of standard exercise machines, equipment featuring CYBEX's Personal Entertainment Monitors alongside equipment from CYBEX's Total Access range.
Developed in accordance with the Inclusive Fitness Initiative (IFI) programme, CYBEX's Total Access range comprises of both cardiovascular and strength training equipment. The range has been designed to be accessible to the physically impaired, without excluding others. This has resulted in CYBEX becoming one of few suppliers offering a comprehensive range of stage 2 IFI accredited equipment.
A full range of CYBEX strength training equipment was also installed at the site. This extensive list of equipment includes eight Big Iron half racks and lifting platforms, eight Bravo functional trainers, six plate loaded stations and 17 free weight stations. Over 35 pieces of strength equipment was also installed from CYBEX's Eagle, VR1 and VR3 ranges.
Commenting on the launch, Mike Stimson, CEO of SportHouse, said: "this event will be the culmination of months of planning and preparation as SportHouse positions itself as a world class sports facility that is both accessible and available to the local community.
"During this time, we have worked closely with Rob and the team at CYBEX to guarantee the delivery of a gym facility that is fully installed with the best equipment available. There is no doubt that SportHouse will be the sports facility to join and train at."
The event will also be attended by a number of current elite athletes from handball, as well as competitors for wheelchair rugby and judo, alongside an extensive list of local and national media, who will be given unrivalled access to the site before it opens to the public the following day.
For more information on SportHouse, visit the website www.sporthouse.co.uk.