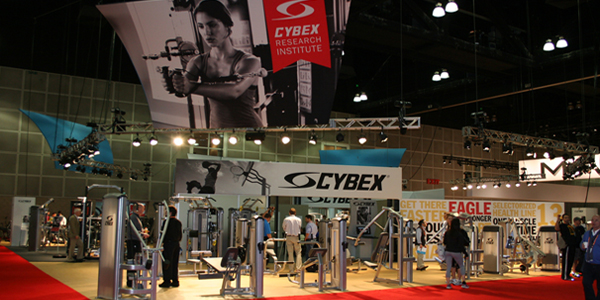 Last month over 10,000 fitness professionals, clubs and equipment manufacturers arrived in Los Angeles for the 31st International Health, Racquet and Sportsclub Association's (IHRSA) annual conference and exhibition.
World renowned for its role in the health and fitness industry as a platform for launching the latest products and innovations, IHRSA 2012 provided CYBEX with an unrivalled opportunity to showcase some of its latest ground-breaking products and exciting new partnerships.
New 770 cardio series
CYBEX's new 770 cardio series was debuted to the fitness industry; comprised of the innovative Arc Trainer, the 770T treadmill, alongside both upright and recumbent cycles, the 770 series includes CYBEX's 'best in class' cardio equipment.
Compatible with the new range, the CYBEX E3 View is an embedded monitor with three viewing modes that will allow users to choose precise content suited to their workout. Users can choose between viewing a detailed overview of their workout programme, watching video via TV, iPod or iPhone, or combining the two. The MuscleMap™ display as featured on the 770 Arc Trainers also allows users to visually target specific muscle groups.
Click here to find out more about the 770 series.
PumpOne partnership announced
An exciting new partnership between CYBEX and PumpOne, a leader in consumer and professional personal training solutions, was announced; the partnership will provide users of the online and mobile fitness applications with unprecedented access to CYBEX technology and research.
Set to go live next month, official CYBEX exercises will be added to PumpOne's FitnessBuilder platform, which is available online and on iOS and Android mobile devices. In addition to this, FitnessBuilder will provide full workout programmes designed by the CYBEX Research Institute (CRI) experts, as well as giving each user access to the CRI's fitness advice and innovative research.
Click here to find out more about CYBEX's partnership with PumpOne.
Bravo Boot Camp tests US Olympic Beach Volleyball team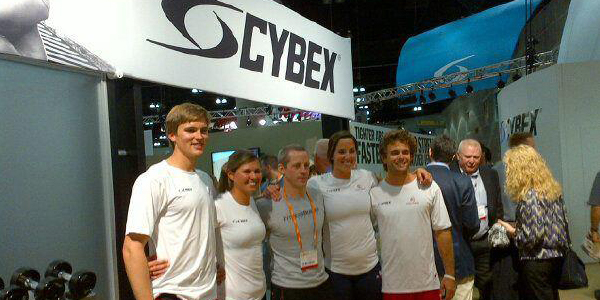 The CYBEX team was joined by the US Olympic Beach Volleyball side for two days, when the athletes took part in a 10-station Bravo Boot Camp circuit.
Using the Bravo functional trainer, alongside the Bravo Press, Pull and Lift machines, the Olympic athletes took part in a series of workouts designed by Dr Paul Juris, executive director for the CYBEX Research Institute.
Showcasing the versatility and flexibility of the Bravo, the athletes demonstrated a range of exercises and programmes, supported by the unique Progressive Stabilisation and Advanced Cable Adjustment systems of the Bravo functional training system.
IHRSA 2012 also saw the launch of My CYBEX, a series of videos highlighting true stories of the positive impact that the CYBEX Arc Trainer has had on users from across all spectrums of the industry; from reality TV stars, to professional athletes and everyday gym goers.
For more information on the latest products and research papers releases by CYBEX, please click here.