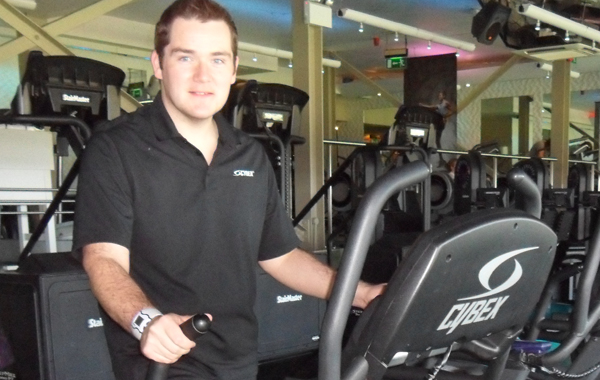 Hi again everyone,
Well it's that time of year when people stop and think: "whoops - my new year's resolutions didn't last long!" This is something that I have definitely seen through the enquiries I have been getting for my personal training sessions There has been an increase in people getting in touch recently who want to get fit, all of whom had the best of intentions at the start of the year but now just need a little bit more motivation and encouragement to do so.
My personal training routine has a number of variations; sometimes I go to people's homes, some I take to a park or beach and others I work with at the gym. Recently, I had an interesting training session with a client in the small gym at my house, whereby I asked what her favourite piece of cardio equipment was to warm up on - she replied a cross trainer! Instantly I grinned and asked her to start her warm up on my CYBEX Home Arc Trainer and within just 30 seconds she could instantly tell something was different!
In fact, her exact response was: "Paddy, what is this – this isn't a cross trainer, my legs feel different!"
She couldn't quite put her finger on it exactly but I then explained about the differences compared to a standard cross trainer including the increased range of motion, the ability to focus on strength and cardio and also the excellent support provided to the joints. We also had a great chat about calories and the amount burned in an average 10 minute workout on a cross trainer versus those burned on the Arc Trainer - as hopefully you know by now you experience a higher consumption of calories when using the CYBEX Arc!
At a recent visit to my local gym, I decided to use the cross trainer for my warm up – normally I use the treadmill. I REALLY missed the incline range available on my Home Arc and it wasn't until now that I have realised how much I do use it – normally set at its highest incline! Using a 'regular' cross trainer now just doesn't compare!
In other news, I am keeping busy with some corporate bits and pieces which is great; it's nice to be able to work with organisations and assist them with helping their workforces get (and stay) fit and healthy.
The final of the latest series of the Biggest Loser UK announced its heaviest ever contestant Kevin McLernon as this series' winner, losing 12st 12lbs in just six months. Having lost 40% of his total body weight, Kevin did incredibly well - It's hard to believe it's been a year already since I was back in the final - What a year it has been! I often wonder what's in store for the next 12 months; usually this is met with a mixture of nerves and excitement as I have some great plans to grow my personal training business – I can't wait to see what the future holds!
Until next time folks, stay healthy and remember: Believe, and you will achieve!
Paddy