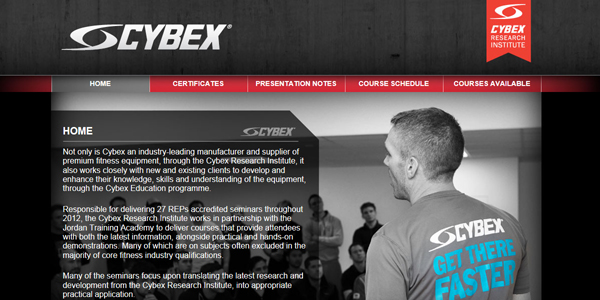 As part of the company's continued commitment to research, education and training, CYBEX UK has recently launched its brand new website www.cybexeducation.com.
The site has been designed to promote the CYBEX Education programme, consisting of 27 REPs accredited seminars which cover a diverse list of topics, including cables and kettlebells training, advance resistance training, functional nutrition and performance, cardiovascular training intensities and weight management and body composition.
Visitors to the site will be able to access a full timetable of seminars taking place throughout 2012, as well as a comprehensive overview detailing the topics that will be covered throughout each course.
Attendees to CYBEX training seminars will also be able to download their own pass certificates from the website, while also accessing digital copies of the course manual after completing the qualification.
Developed by the CYBEX Research Institute in partnership with the Jordan Training Academy, the premise behind the seminar programme is to provide attendees with both academic information and practical demonstrations on topics that are often not included in the majority of fitness industry qualifications.
Each seminar is devised from a science and research-led background and focuses on translating the knowledge into appropriate practical application, as CYBEX master trainer Julia Dalgleish explains: "Here in the UK, CYBEX provides a comprehensive seminar programme that enables its customers to continue its professional development through REPs accredited training workshops that aim to extend their knowledge beyond the current UK Fitness Industry qualifications."
Offered to existing CYBEX clients free of charge, each course holds between 25-40 attendees and provides all those that attend with four REPs accredited CPD Points.
For more information on the CYBEX Education programme, click here to visit the website.
If you would like to attend a CYBEX seminar or would like any more information, please contact our UK Head Office on 0845 606 0228 or at info@cybexintl.co.uk.