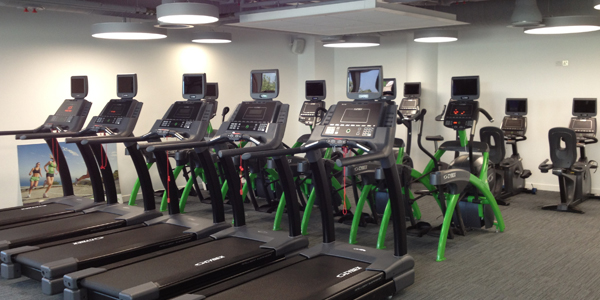 This month CYBEX completed the install for the gym facilities at The Quadrant:MK, the brand new national headquarters for Network Rail.
The Milton Keynes site will be used by Network Rail to accommodate over 3,000 staff across its key departments.
Alongside the newly built fitness centre, the site will also include a food court, convenience store, shower and changing facilities and over 250 bicycle parking spaces, as the company encourages an active lifestyle amongst its employees.
The agreement with the site saw a range of CYBEX cardiovascular equipment installed including five 750T treadmills, five 750AT Arc Trainers, 750C upright and 750R recumbent cycles.
CYBEX also installed Bravo functional trainers and a number of pieces from the Eagle premium strength line.
As part of CYBEX's commitment to providing a total training solution, a pre-installation site survey was carried out, resulting in 3D floor plans and a virtual gym walkthrough to demonstrate various equipment configurations based on the client's requirements.
Made possible by CYBEX's build to order policy, Network Rail also chose customised colours for a number of pieces of equipment.
To view the 3D walkthrough of the gym, click here.
The contract to equip the new facility was won by Nuffield Health, a leading provider of medical, wellbeing and fitness services.
The Network Rail facility is the latest in a number of high profile contracts awarded by Nuffield Health to CYBEX International, which include Waitrose HQ, Deutsche Bank and most recently, The Club at Baltimore, London's largest residential gym facility.
Jon Mann, account director for Nuffield Health Corporate Wellbeing, said: "Nuffield Health has worked with CYBEX on a number of contracts and their service and delivery has always been superb.
"CYBEX isn't simply a supplier of fitness equipment; it is a company that consults, advises and supports its clients right through the sales process and the feedback we receive from our customers reiterates why we continue to work closely with CYBEX's key account manager Alan Ellis and his team."
The four new buildings at the Milton Keynes site have also been designed to deliver to Network Rail's commitment to environmental sustainability, with features including natural ventilation, 'living' roofs, shaded glass and electric car recharging points.
The gym opened on 25th June, with the entire site set for completion this summer.
For more information on The Quadrant:MK Gym, click here.