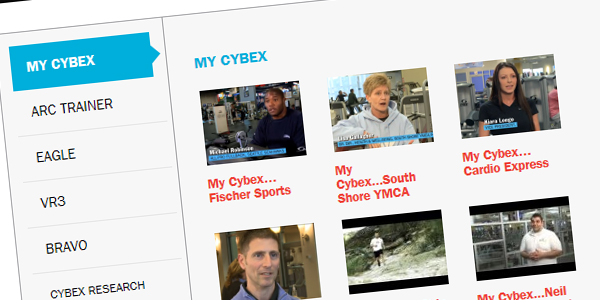 My Cybex is now live, offering a range of video interviews with clients who highlight ways in which CYBEX equipment is used to support the varying training needs of gym members.
Available on CYBEX TV via www.cybexintl.com, My Cybex delivers personal accounts from gym owners, who discuss why they chose CYBEX to equip their facility.
The videos profile a range of sites including an elite training gym which delivers rehabilitation programmes for professional MLB and NFL athletes, a YMCA facility that caters for 3000 members per day and a multi-site gym, which houses a full range of both cardio and strength CYBEX training equipment.
My Cybex also includes interviews with key individuals who train on CYBEX equipment, including an ultra-marathon runner, professional athletes from the NFL as well as a contestant from the US version of the Biggest Loser.
To view the My Cybex videos, click here.
CYBEX has also recently launched its latest competition, I Want My Cybex. To be in with a chance of winning a week's break for two to the Fitness Ridge in Malibu, California, contestants must submit a short video explaining how the Arc Trainer has helped achieve fitness goals. All entries must be submitted online by August 31st 2012.
To find out more information and enter I Want My Cybex, click here.
My Cybex has been devised by the CYBEX Research Institute (CRI). As the research arm of the company, the CRI is responsible for all research and product development at CYBEX, by investigating both existing designs and new concepts to ensure CYBEX continues to deliver premium exercise equipment to its customers.
For more information on the CYBEX Research Institute, click here.