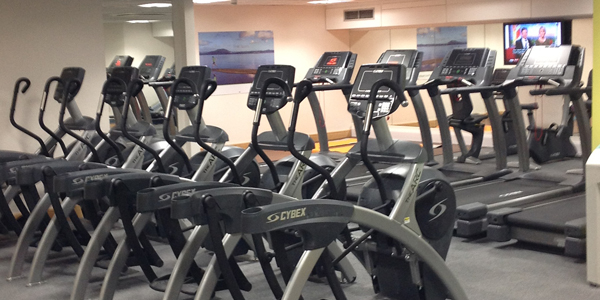 CYBEX has extended its relationship with Nuffield Health to provide a range of cardiovascular and strength training equipment for the in-house fitness facilities at Lloyds Banking Group's office in Halifax.
As one of five UK head offices for the company, the site is home to over 3500 staff working for Halifax and Bank of Scotland, two of the brands owned and operated by Lloyds Banking Group.
The new onsite gym includes five 750T treadmills, five 750AT arc trainers, upright and recumbent bikes.
The gym also houses equipment from CYBEX's Eagle strength line. Developed from the company's heritage in sports medicine, the Eagle range includes 20 selectorised pieces of equipment, targeting lower and upper body, trunk and torso.
As the industry's largest manufacturer of strength equipment with over 150 unique pieces, CYBEX positions the Eagle range as its 'best in class'; easily adjusted to suit users of all sizes, incorporating CYBEX's Dual Axis Technology which ensures ultimate versatility for any work out.
CYBEX also provided a pre-installation site survey and 3D CAD drawings, to assist in the visualisation of the site prior to the completion of the install.
The contract at Lloyds Banking Group was won by Nuffield Health, a leading provider of medical, wellbeing and fitness services. As the market leader in the design, build and management of on-site company health and fitness facilities, Nuffield Health has worked with CYBEX on the provision of a range of corporate training facilities to include Waitrose HQ, Network Rail HQ and Citi Bank.
"The recent install at Lloyds Banking Group is just one of a number of important contracts we have worked closely with CYBEX on," confirms Paul Edmondson, account director for Corporate Wellbeing, Nuffield Health.
"Whilst the fitness equipment is of exceptional quality and design, it is also highly accessible; users of all abilities and training requirements can use both the cardio and strength equipment with ease."
Alan Ellis is CYBEX's key account manager and works closely with Nuffield Health on all installs: "Nuffield Health is one of the UK's leading providers of corporate wellbeing services, working with some of the biggest employers in the country; for CYBEX to have established such a positive working relationship with the company is testament to not only the fantastic range and quality of the fitness equipment that we manufacture, but also to the high levels of customer service we deliver."