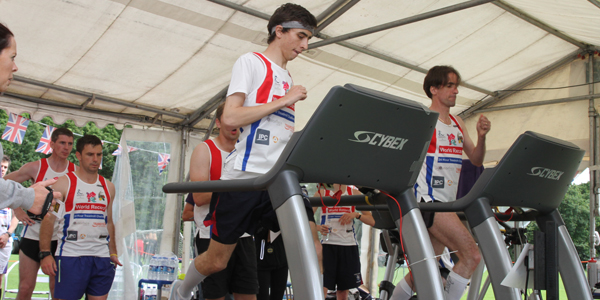 The world record has been broken for the furthest distance covered on one treadmill in 24 hours; and it was CYBEX that supported the team of 12 from Forest School, Walthamstow, providing two 750T treadmills for the challenge.
Beating the previous record by over 15km, the team of teachers, parents and sixth form students maintained a minimum speed of 17.7 km / hour to achieve a total of 437.7km in 24 hours.
Five-time gold medal winning Paralympic athlete and patron of Forest School's preparatory school Noel Thatcher MBE also took part in the challenge.
The initial concept came from Wayne Bishop, sports facilities manager at Forest School's Sylvestrian Leisure Centre. Wayne has worked closely with CYBEX since 2010, when he first contacted the company regarding the proposed challenge: "When we came up with the idea, the first call I made was to CYBEX; without delay, we were provided with two of the latest model treadmills to ensure that we had the equipment to cope with the demand of the challenge.
"As part of the regulations outlined by Guinness World Records, we had to supply very detailed, comprehensive evidence regarding the equipment used and CYBEX was fantastic supporting us with this, making the whole process much easier."
So far, the team has raised over £8,500 for the Essex Disabled Sports Federation and the Forest School Olympic Scholarship.
Luke Berry, CYBEX regional sales manager, said: "The world record completed by Wayne and his team was a fantastic accomplishment; not only did they raise a huge amount of money for charity, but it's also a real achievement for the school and everyone involved. We were only too happy to support as much as we could."
As one of the industry's leading suppliers of fitness equipment, CYBEX International is renowned for its premium quality, highly durable strength and cardio equipment.
The 750T treadmill used as part of Forest School's world record challenge has been designed for the most demanding of users, delivering ultimate levels of reliability and performance with a larger running area which incorporates CYBEX's innovative IS3 Intelligent Suspension System.
As an existing CYBEX customer, Forest School already has a number of pieces of CYBEX cardiovascular and strength training equipment in use at the fitness facilities at the school's Sylvestrian Leisure Centre.