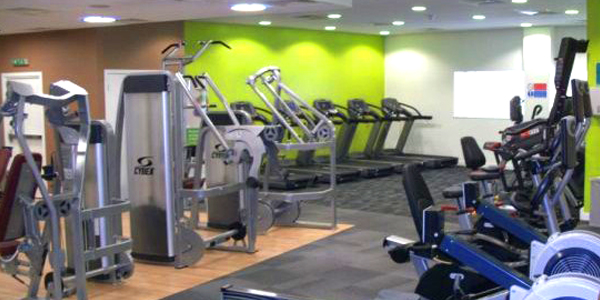 CYBEX has teamed up with the UK's leading employee wellbeing provider Nuffield Health to run a treadmill challenge, which took place last month at the new corporate fitness facilities at Invesco Perpetual.
Members of the onsite gym at Invesco Perpetual's Henley-on-Thames office were given seven days in which to run a total of 26.2 miles on one of CYBEX's new 770T treadmills, which were recently installed as part of a complete gym refurbishment in June.
The fastest male and female both received passes to an exclusive local Day Spa, whilst all participants were provided with CYBEX merchandise.
The contract at Invesco was won by Nuffield Health, the UK's leading provider of employee wellbeing services with around 200 corporate sites. As the market leader in the design, build and management of on-site company health and fitness facilities, Nuffield Health has worked with CYBEX on the provision of a range of corporate training facilities to include Network Rail HQ, Deutsche Bank and The Club at Baltimore, London's largest residential gym facility.
David Brame, commercial director for fitness at Nuffield Health, said: "We are delighted by our work with CYBEX which has created this fantastic new facility for staff at Invesco Perpetual.
"We work with more than 1500 employers across the country delivering first-class fitness and wellbeing facilities and this is a great example of what great partnerships - such as this one with CYBEX - can achieve."
As one of the largest independent investment managers in the UK, Invesco Perpetual have three UK sites; the newly-refurbished gym at the Henley office provides employees with flexible access to state-of-the-art training facilities, which include equipment from CYBEX's 770 range, which is brand new to the UK market.
Highlighted as CYBEX's 'best in class' range, the 770 cardiovascular series has been designed for commercial high-end use. The range includes treadmills, Arc Trainers and both upright and recumbent bikes, all of which were installed at the Invesco site last month.
The facility at Invesco is also the first site in the UK to house CYBEX's E3 View; as the latest in entertainment consoles, the CYBEX E3 View embedded monitor integrates with the new 770T treadmill's CardioTouch command centre, eliminating common issues caused as a result of on-screen controls, therefore allowing users to focus on their workouts.
For more information on the CYBEX E3 View, click here.
Alan Ellis, CYBEX key account manager, said: "We have built up a fantastic working relationship with Nuffield Health, which has resulted in CYBEX installing equipment at corporate fitness facilities for some of the country's biggest employers.
"Invesco Perpetual are one of the first sites in the UK to take ownership of the CYBEX 770 series of cardio equipment and we have already received excellent feedback in terms of the range's quality, durability and accessibility to all abilities."