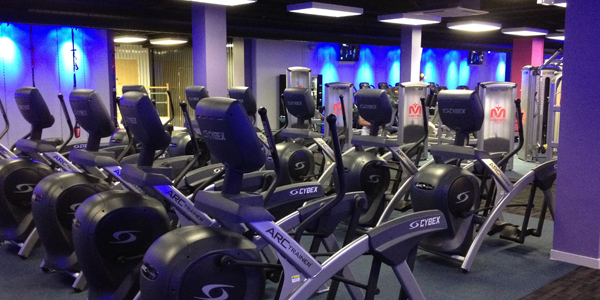 Last month saw the official opening of Metro Fitness, a brand new 10,000 ft² gym in Stockport, Cheshire.
Positioning itself as the UK's first premium budget gym, Metro Fitness is the latest venture from Ray Hatton, sports industry expert and father of professional boxer Ricky Hatton; as an existing CYBEX client, Ricky already has a range of premium equipment installed at his home as well as his own public facility, Hatton Health and Fitness.
Metro Fitness is home to over 70 pieces of CYBEX cardio and strength training equipment, including over 30 pieces from CYBEX's new 625 cardiovascular range made up of treadmills, total body and lower body Arc Trainers. A number of upright and recumbent bikes from the 750 series were also installed.
The site was also one of the first UK facilities to incorporate CYBEX's wireless audio receivers, a new solution designed for customers who have wall-mounted screens; members using the cardio equipment will be able to plug their headphones into the CYBEX console and select the audio from any wall-mounted TV. This feature is also compatible with the CYBEX 770 cardio series.
Metro Fitness also ordered a number of pieces from both its VR1 and VR3 strength ranges of selectorised equipment, whilst members will also be using CYBEX's Bravo functional trainer complete with Bravo Lift, Press and Pull stations, which were recently awarded the FIBO Innovation Award 2012 for their patented progressive stabilisation features.
Click here to watch Metro Fitness' promotional video, showcasing the CYBEX equipment.
Metro Fitness is a joint venture between Ray Hatton and George Stylianou, fitness industry consultant who has previously worked with David Lloyd Leisure, De Vere Hotels, Warner Leisure Hotels and Esporta on the launch of a number of leisure businesses.
Commenting on the relationship with CYBEX, George Stylianou said: "The service provided by CYBEX, from the initial site survey right through to the equipment installation, has been fantastic. Whilst we may offer our members 'budget gym' prices, we pride ourselves on providing premium facilities and this is certainly supported by our fitness equipment - our CYBEX Arc Trainers are proving particularly popular with members of all ages.
"This project only serves to build our already well-established partnership with Alan and the CYBEX team."
Alan Ellis, CYBEX key account manager said: "Metro Fitness is a fantastic facility, providing members with a premium training environment at what are 'budget gym' prices. We've worked closely with George and Ray to ensure that their members are provided with a comprehensive range of equipment and based on initial feedback from members, Metro Fitness will continue to be a fantastic success."
For more information on Metro Fitness, visit www.metro-fitness.co.uk.